'Autumn calls for flowers' content campaign
Join in from 22 September
The 'Autumn calls for flowers' content campaign will be appearing on the consumer website Funnyhowflowersdothat.co.uk and its sister sites in Germany, France and the Netherlands from 22 September until the end of November. The autumn dossier is the follow-up to the Celebrate Seasons summer campaign, and focuses on autumnal bouquet inspirations and DIY craft projects. The dossier will again include fabulous marketing and image materials to highlight this flower-rich season in shops and on social media.
New images available to download
Download the new autumn images that were made especially for the consumer site Funnyhowflowersdothat.co.uk. These are very suitable for trade channels and sales outlets to use in their own social media channels or on the shop floor. Free to use with mention of the hashtag #funnyhowflowersdothat and @howflowersdothat.
Bouquets bursting with autumnal colours

We are celebrating autumn with lots of content about autumn flowers like Callicarpa, Physalis and chrysanthemums. We combine these and other classic autumn flowers in a vase bouquet with dried flowers, a 'harvest bouquet' based on harvest time that represents all the beauty, scents, colours of autumn. And a 'mood booster' bouquet cheerful in colour, that provides a positive uplift as the days become darker. In addition, there will be a DIY with flowers and pumpkins on Funnyhowflowersdothat.co.uk and we address the customs and habits surrounding All Saints Day and All Souls Day.
Online and shopper activation
'Autumn calls for flowers' will receive plenty of coverage on our social media channels and websites in the Netherlands, Germany, France and the United Kingdom, and we will attract visitors to the websites through the use of online media. The theme is also very well suited to shopper activations, and therefore we already have plans in Germany for a collaboration with a German retailer based on this Autumn theme.
Do you want to get involved?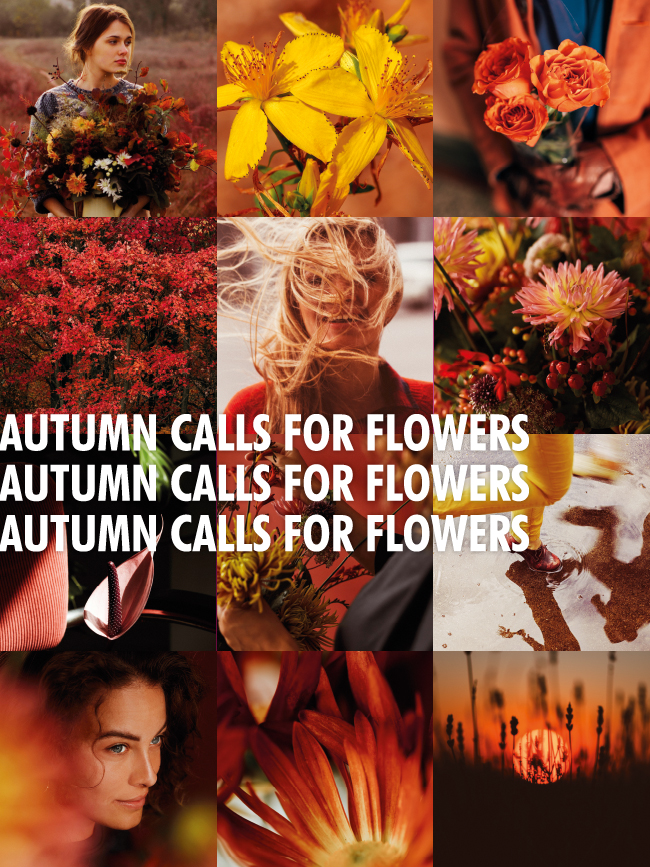 You can join in with 'Autumn calls for flowers'. Download the images and the POS material below to use on social media or the shop floor.
Poster:
​The poster (German, French, Dutch and English) can also be found on our Marketing Portal for our stakeholders. If you don't have an account yet, apply for one now.
​Photo credits & tags:
Want to find out more?
For more information about this Autumn content campaign, please contact us Chanel de Kock, Country Manager UK, at cdekock@flowercouncil.co.uk.
                      
September 2021