Celebrate Seasons: Autumn calls for flowers
Autumn officially begins on 22 September - the perfect time to unveil an extensive autumn dossier on Funnyhowflowersdothat.co.uk. Because autumn encourages us to stay indoors, with flowers, obviously! A dossier packed with autumnal floral delights in warm flaming colours, and 'let it rain' DIY craft projects for staying in.
This season calls for flowers​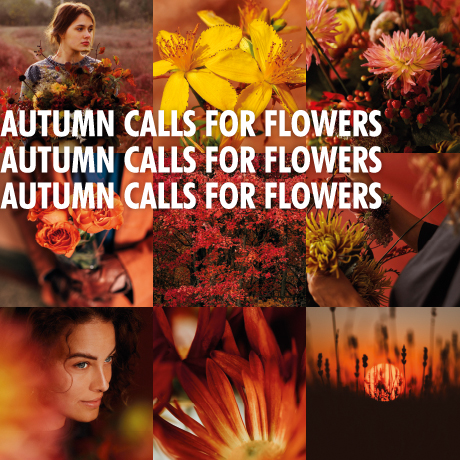 The autumn dossier is a follow-up of the Celebrate Seasons summer campaign. With the slogan 'Autumn calls for flowers', we highlight the positive effects of both flowers, and the new season. Classic autumn flowers that will be in the spotlight - obviously accompanied by bouquet recipes - are chrysanthemums, asters, rosehips, Veronica, Hypericum, Crocosmia and Scabiosa. We will be publishing this content on Funnyhowflowersdothat.co.uk and its sister platforms in Dutch, German and French, as well as their associated social media channels. 
DIY projects with autumn flowers​
Because this season encourages us to spend more time indoors, we're going to make it cosier with flowers. And it's not just about the result, but also the crafting process itself. Think of a home-made home fragrance with roses and sage, a dried flower project, or a fragrant floral bath. And that's just a few ideas from the autumn content. Combined with the new fabulous photography bursting with shades of red, orange, yellow and pink, the autumn dossier offers plenty of inspiration for a glowing season.
Get involved!​
Starting 22 September, all content can be viewed on Funnyhowflowersdothat.co.uk, which will also be boosted via our social media channels.
Will you be offering your customers inspiration on the shop floor this autumn? Download the campaign poster and other autumn images below. You can use these on all of your own online channels when you credit Funnyhowflowersdothat.co.uk, to make sure that no customer can overlook the fact that this season calls for flowers.
Poster
A3 poster Autumn calls for flowers
Online photo credits
Instagram: @howflowersdothat
Facebook: @funnyhowflowersdothat