Good results for Valentine's Day haters
Our high profile 2018 Valentine's campaign played to anti-Valentine sentiments. Research showed that there's irritation with the commercial nature of the day. So the campaign message was that it's fine not to enjoy Valentine's Day: you can show love every day with flowers! But how did the campaign do it?
Social media, posters and influencers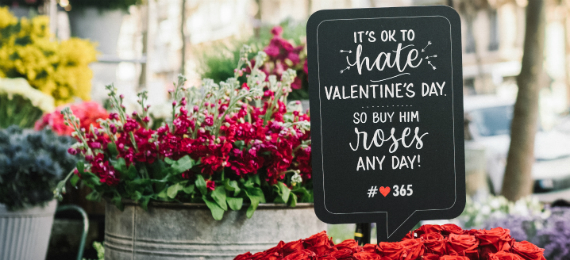 In Germany, France the United Kingdom the campaign was carried out on Instagram and Facebook. In the Netherlands we also used posters at railway stations and worked with influencers. On social media alone we achieved a reach of nearly 30 million amongst our target groups. An excellent result.
Original angle, lots of interaction
The fact that the original 'anti-Valentine' angle was the right choice was shown by the many interactions with the adverts. They were shared, reposted, liked and commented on more than average. Thanks to the press release the campaign also appeared in media including Margriet magazine and on Ze.nl, Taspo, Imgegenteil.de and Vivere Parigi. Finally, one amusing conclusion is that images featuring a red rose in the starring role still work best for Valentine's Day.