Floriculture sector growth platforms
What do you base effective marketing campaigns on? Where are the opportunities for growth?
In 2018 Royal FloraHolland (RFH) developed four growth platforms for the floriculture sector. These are international strategic marketing themes based on up-to-date and validated data, and the Flower Council of Holland (FCH) has embraced the growth platforms from the start. The platforms show where the opportunities are for growth in the market, and thus providing a firm basis for positioning, campaigns, content creation, and shopper activations that allow us to take advantage of opportunities and stimulate sales.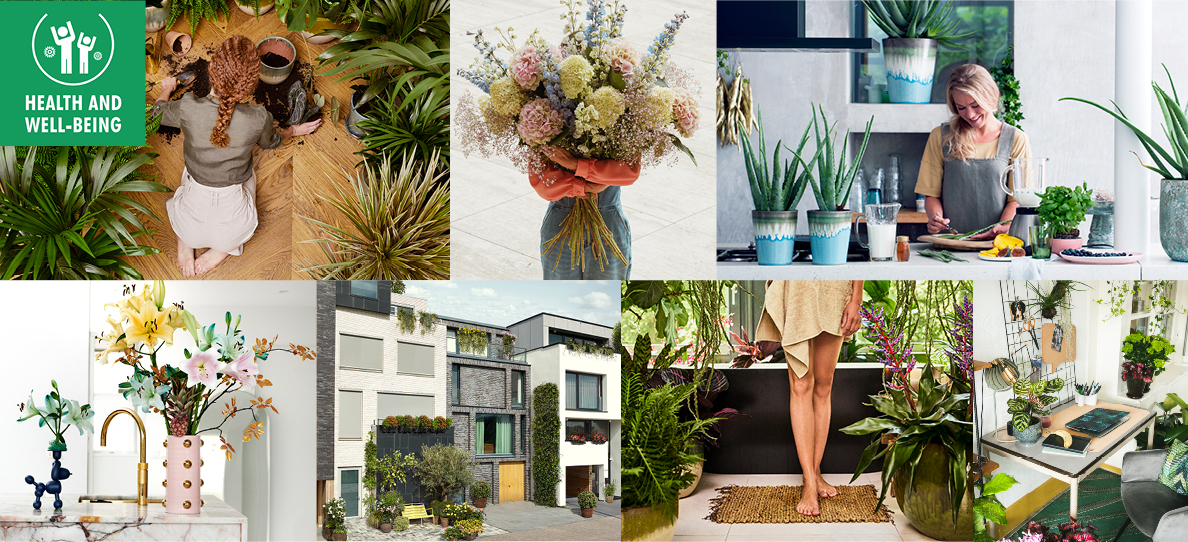 The platforms that were developed in 2018 are: Interiors, Health & Wellbeing, Connecting Friends, and Celebrate Seasons. These have formed the communication pillars that our various flower and plant campaigns were based on in recent years.
From four platforms to three
In Spring 2021 FCH and RFH evaluated the four growth platforms and concluded that the same themes still offer opportunities for growth. Both parties did notice that in practice the Interiors growth platform was being used more as an implementation of Health & Wellbeing than as a separate theme. We are therefore refining the focus even more, and moving forward with three instead of four growth platforms. We are also changing Connecting Friends to Connecting People, because flowers and plants offer opportunities to connect all people.
These are the three growth platforms:
1. Health & Wellbeing
This platform is about physical, mental and emotional health. Whilst in the past we mainly thought about keeping physically fit and growing old, topics such as stress reduction and balance are equally important nowadays. In other words: a healthy mind in a healthy body. Terms like vitality, resilience and harmony often appear in this trend, as do healthy, sustainable, balanced and contact with nature. These are good hooks for the floriculture sector because science has clearly shown that plants and flowers can contribute to this.
Within Health & Wellbeing you might in the first instance mainly think of green houseplants and garden plants. Many plants purify the air, and greenery reduces stress and encourages creativity and concentration. Plants provide not only an attractive feature in the home or garden, but also a generous dose of 'green vitamins'. But we are not overlooking flowers and flowering plants either, because with a beautiful bouquet you can give someone a radiant bunch of happiness.
Extra inspiration
Associations with houseplants: enjoyment/happiness, calming and vitality.
Associations with garden plants: pure nature, harmony, self-sufficient and leisure.
Associations with cut flowers: nature, joy, opulence/luxury, delicate.
Opportunities for growth
Scientific facts can provide extra unique selling points 
Emphasise how easy plants are to care for.
2. Connecting People
Flowers and plants create bonds between people - this is the message underpinning the Connecting People growth platform. Contact is being diminished by digitisation and individualisation.  The gap between people appears to be widening, yet social contacts make an important contribution to a happy life. Within a friendship, flowers and plants create real connection. Plants also confirm a long-term bond between the giver and the recipient. So welcome friends and family with flowers on the dining table or a beautiful plant by the front door.
Or strengthen your bond by giving someone a beautiful bouquet of flowers, as encouragement, a thank you, congratulations, or just for the sake of it. The gesture becomes even more personal if the bouquet consists of someone's favourite flowers, beautifully wrapped. If you're not that familiar with the recipient's taste, let the symbolism of the flowers say what you feel, because there are flowers for every emotion, at any time, anywhere.
Extra inspiration
Associations with flowers: attention, love, consolation, memories.
Associated with houseplants: friendly, enjoyment/happiness.
Associations with garden plants: shared enjoyment and memories.
Opportunities for growth
Emphasise the bond/relationship with flowers and plants, both when physically present or from afar.
Position the products as a thoughtful gift, where appropriate gift wrapping is essential.
3. Celebrate Seasons
This growth platform focuses on the seasons. Nature offers a perfect theme for flowers and plants, because with every season we can again look forward to classic seasonal products. Every season has its own charm and atmosphere, with its own flowers and plants. And these products offer strong associations with particular seasons, and they help us to emphasise a season even more, and also allow us to bring it indoors. The fact that these products are often not available all year round also ensures exclusivity, urgency and variety. This growth platform fits seamlessly with the current zeitgeist in which we are enjoying life and nature. Where awe at (the rhythm of) nature and mindfulness play an important role.
Extra inspiration
Associations with flowers: joy, opulence/luxury, nature, delicate.
Associations with houseplants: awe.
Associations with garden plants: pure nature and harmony.
Opportunities for growth
Focus on the temporary availability of products, thus creating a sense of urgency: this product is available now.
Ensure that there are constantly new seasonal products in the range, and thereby creating an extra impulse to buy.