Shopper activation at Intratuin: win a plant styling consultation and store credit
Throughout October, customers who buy one or more orchids at Intratuin in The Netherlands, have the chance of winning an exclusive plant styling consultation and €449 to spend in-store.
We have developed an appealing Dutch shopper activation with our partners Intratuin Nederland and Orchidee Nederland which will be running in Intratuin stores in the Netherlands from 5 to 31 October.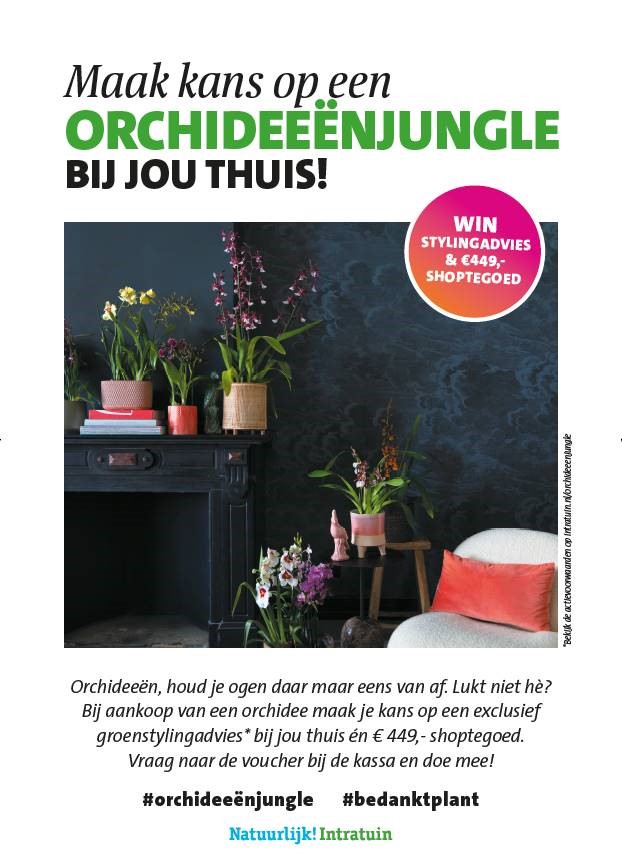 A logical collaboration
Intratuin is an organisation with 52 garden centres in the Netherlands. As a garden centre and home accessories store, they make shopping for the garden, home and balcony an inspiring leisure activity. With its Plantfulness consumer campaign, Intratuin is highlighting that plants provide fresh energy, inspiration and relaxation. This campaign fits perfectly with the Flower Council of Holland's Thanks Plants campaign, which is running again this autumn. Collaboration on a shopper activation is therefore a logical step. 
Orchidee Nederland is a collaboration between all Dutch orchid growers and breeders with the aim of informing consumers - in partnership with the growers - about the best care for orchids, and inspiring them with various ideas to make your house a home with orchids.  
About the shopper activation
An extensive PR programme will inspire consumers through various media and influencer channels to visit an Intratuin store to buy an orchid. Intratuin is offering a new perspective on orchids - they are no longer placed on their own on the windowsill; various orchids combined together will create a real orchid jungle. The stores will boast eye-catching point-of-sale material to encourage shoppers to buy one or more orchids and start applying new ideas. Their purchase gives them the chance to win an exclusive plant styling consultation and €449 to spend in-store. This promotion will be supported on intratuin.nl/orchideeënjungle and on our Dutch consumer website Mooiwatplantendoen.nl with inspiring information and the hashtags #orchideeënjungle and #bedanktplant
Want to find out more?
For more information please contact Jacco van der Hoeven, shopper activation marketeer, on 0174 72 70 28 or j.van.der.hoeven@bloemenbureauholland.nl.
Copyright beeld: Theo-Bert Pot en Intratuin