Successful collaboration: December shopper activation
Amaryllis campaign at Fleurop leads to considerable sales increase
In December 2021 Fleurop, Amaryllis growers of Royal FloraHolland and the Flower Council of Holland again combined their efforts to sell more amaryllis bouquets in the Netherlands and Germany. And once more with very good results.
Two main goals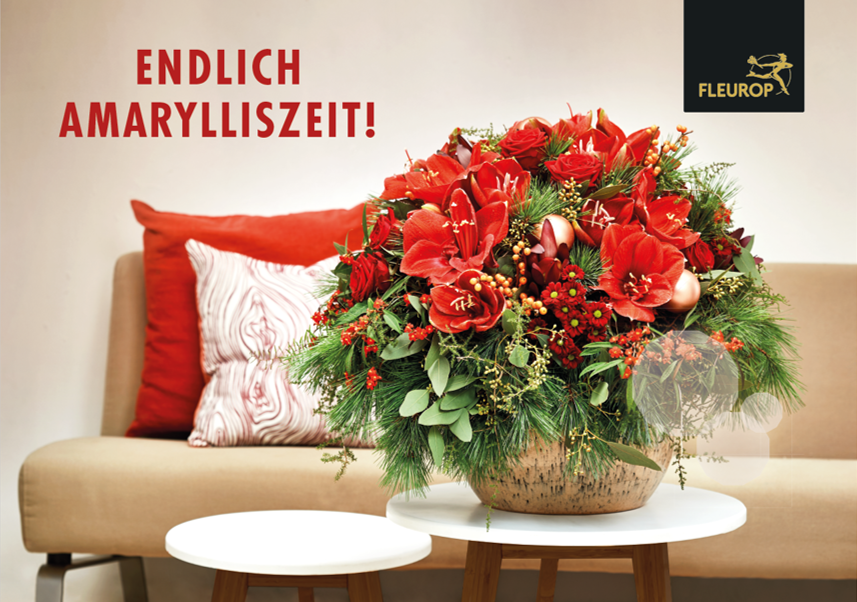 After previous successful promotions, two in the Netherlands and one in Germany, a separate goal was set for this shopper activation in the two countries. In the Netherlands, the aim was to try and come as close to the results of the year before. For Germany, the goal was to achieve a 40% increase in sales of amaryllis bouquets at Fleurop.de compared to the sales of the year before.
Results in the Netherlands
The shopper activation entailed a chance of winning a € 449 interior styling kit with each amaryllis bouquet sold by one of the 550 participating Fleurop florists. This was communicated through both a social media campaign and POS materials in each of the Fleurop stores, such as posters and counter displays. In total, well over 6,000 participants signed up after having bought such a bouquet. This led us to come very close to last year's results, which is exactly what we aimed for.
Results Germany
To achieve the goal in Germany, we sent POS materials to the 1,200 participating florists for in their stores and placed billboards in the area around their stores. Online, social media and the Tollwasblumenmachen.de website also focussed on the promotion. Like last year, German consumers who bought an amaryllis bouquet got a chance to win one of the 100 bouquets – theirs to keep or give to someone else. At the end of the campaign, the goal of achieving 40% more sales than in 2020 had been obliterated, as no less than 139% additional sales had been achieved. 
Future takeaways
These amaryllis promotions are excellent proof of how shopper activation based on generic promotion can lead to a boost in sales and other great results. We will explore other possible collaborations with Fleurop in the Netherlands and Germany in order to push sales in 2022.
More information
For more information about this shopper activation and its results, please contact Floris Wiebosch, Senior Shopper Activation Marketeer, via fwiebosch@bloemenbureauholland.nl.
                  
March 2022