The Green Gallery launches Green Screen ad blocker
Flower Council of Holland, publisher of online magazine The Green Gallery, launches Green Screen as blocker
The Flower Council of Holland, publisher of online inspiration magazine The Green Gallery, has released a series of floral-themed ad blockers, collectively named 'The Green Screen'. In collaboration with UM Studios and Influencer Management Agency (IMA), The Green Gallery has worked with four international artists and designers spanning the worlds of fashion, music and art, resulting in twelve distinct art pieces. 
New opportunities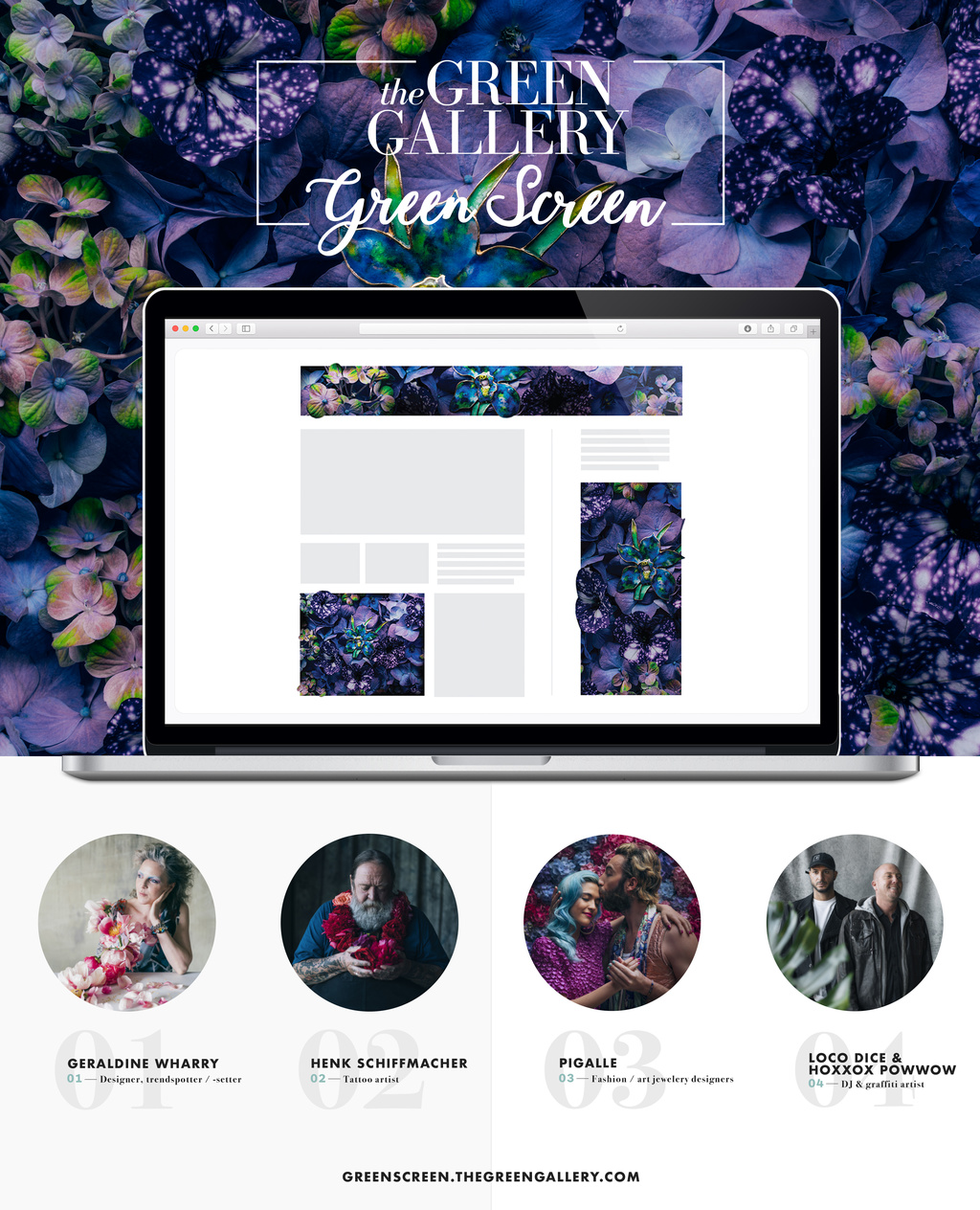 The Green Screen ad blockers have been designed to take over traditional advertising banners and transform your online experience into one that is uplifting, inspiring and flower-filled. This campaign is also in response to a growing consumer trend, with more than half of British adults currently using ad blockers*. Furthermore, research from The Emotional Impact of Flowers has shown that flowers and plants reduce stress and make people happier, more cheerful and creative.  
The Flower Council of Holland commented: "The Green Gallery Green Screen project allows for flowers and plants to brighten up consumer's everyday online experiences. By working in collaboration well-known, international artists, we have been able to create a variety of unique and creative designs to hopefully satisfy every taste." 
Artists
The Green Screen consists of 12 floral art pieces created by four designers, all of whom have a love of flowers and plants which has inspired their work:  tattoo artist Henk Schiffmacher, DJ and producer Loco Dice & graffiti artist Hoxxoh, creative innovator Geraldine Wharry and fashion label Pigalle. For more information on the individual artists, please see bios below.
The rugged roses of 'Hanky Panky'
Renowned Dutch tattoo artist, Henk Schiffmacher, has a passion for floral artwork, having inked many customers with intricate designs over the years. His love for flowers helped to inspire his take on the project and his resulting ad blocker masterpiece. Henk commented; "Flowers tell stories without words. Why do you think we give them to each other all the time? You can never get tired of looking at flowers."
Trendsetter: Geraldine Wharry
Originally from the UK, Geraldine Wharry is a trend watcher and notable trendsetter, having previously worked with iconic brands such as Louis Vuitton, Nike and Nivea. Geraldine adopted a combination of techniques when composing her floral ad blocker design; creating, transforming and scanning collages. Geraldine said; "I wanted to create something really special which makes art a part of everyday life, which is why The Green Screen is absolutely perfect for me."
Loco Dice x Hoxxoh: meticulous, graphic street art
Graffiti artist, Hoxxoh creates murals all over the world inspired by the music from DJ, rapper and producer, Loco Dice. The duo worked together in a one-off collaboration for this project. "My work is very repetitive, almost mechanical, just like Loco's work. With The Green Screen, I have tried to translate the wavelengths in his beats into clean, graphic flowers for people to enjoy on-screen," said Hoxxoh.
The avant-garde designers behind Pigalle
Fashion designer and Parisian 'street icon' Stephane Ashpool is the mastermind behind well-known brand Pigalle. Renowned for collaborations with the likes of Nike and Missoni, the label is also popular with celebrities including Rihanna and Jay-Z. 'To me, flower petals hold a kind of holy beauty," commented Stephane. Together with his fiancée, jewellery designer Marissa Seraphin, he has produced a 3D floral ad blocker.
You can download the Green Gallery Green Screen ad blocker at:  greenscreen.thegreengallery.com
#greenscreenadblocker
#thegreengallery
*According to recent research undertaken on behalf affilinet in Spring 2017.