This is what our country managers do
International approach and insights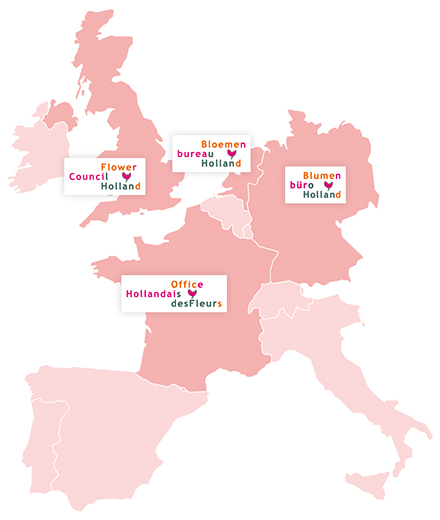 The activities of the Flower Council of Holland (FCH) have an international scope, meaning that almost all activities such as campaigns, content and sales promotions take place in all our core countries: Germany, France, United Kingdom and the Netherlands. To assure that all activities match the different markets respectively, and since they all have their own peculiarities, this is when our international team and network come into play.
To be most efficient, we have local offices with our international colleagues for relationships with the national horticulture sector. Andrea Becker (Germany, based in Dusseldorf), Chanel De Kock (United Kingdom, based in London), Ron Jeronimus (France, based in Paris) and Simone Dussine (Netherlands, based in Aalsmeer) are the Flower Council's "locals" in the core markets.

The international approach at work
Being the link is a broad field going from commenting all communication and action propositions from a country-point-of-view, choosing the right language, to find synergy with local sector organisations and partners in trade. A few examples of what the Country Managers bring to our recent campaigns:
Inform local stakeholders - such as sector associations, wholesale and retail - about the ongoing campaigns, help local stakeholders to benefit from the campaigns and generate leads for future campaign collaborations, such as sales promotion campaigns.
Collaborate with local trade press to inform the sector at local level.
Words are extremely important in communication and so is their translation. For instance, in France everything needs to be in French to be understood, even though some English words are now used regularly. Therefor the trend names need an understandable French name (while they can be in English for all other countries). That is why the trend "Bright and Breezy" is called "Frais et Coloré" in France.
For an outdoor campaign, if we want to add a social angle and focus on 'making your street green and put plants at your front door', we have to realise that in most countries the front door opens not in the front yard but on the public pavement, and in some countries it is strictly forbidden or regulated to put plants (or whatever) in public places.
The FCH proposing generic promotion for all flowers and plants, it is important to know that communication on 'local flowers' has become very important recently in the various countries, with the Country Managers giving input in order to decide how to react.
Using experienced international agencies
To be most efficient in all markets, we work with international renowned agencies for media purchasing to find the best media mix for the four core markets respectively, and with international and local agencies for content creation and PR activities to ensure the best possible outcome per market.
New focus Country Managers
Until several years ago, the Country Managers provided also national consumption figures, organised local trips for trade and growers. These activities are not part of the job anymore. The focus is on optimising the national versions of the campaigns, and to inform the local sector as well as possible in order to ensure maximum reach of the activities. The Country Managers mainly seize opportunities to contact and interest sector parties to use the FCH activities as opportunities for their communication and sales activities.
Touchpoint for all
In short, the Country Manager is the point of contact for all concerning her or his country, business partners, stakeholders, trade press, headquarters, trade and sector organisations. They are the local support for the most optimal exchange between the various parties in the Netherlands and the local market, to optimise the implementation of communication and actions. With a special mention concerning the Netherlands, where the local touch for Dutch activities is assured by our Dutch colleagues from the headquarters, and the Dutch Country Manager's focus is mainly on informing stakeholders, and managing the team of Country Managers and Corporate communication.
More information
For more information or the contact details of the Country Managers, contact Simone Dussine, Manager Country Management and Corporate Communication at sdussine@bloemenbureauholland.nl.
                  
December 2021