Amaryllis shopper activation in the Netherlands and Germany
Another collaboration with Fleurop
Following the success of previous years, another amaryllis shopper activation is planned at Fleurop in December. This year it will take place in both the Netherlands and Germany again. Customers have the chance to win great prizes when they buy an amaryllis bouquet. The campaign differs slightly between the countries with regards to content and campaign periods, but it is a joint initiative with Fleurop, amaryllis growers, Royal FloraHolland and the Flower Council of Holland (FCH).
The activation for consumers in the Netherlands
The first amaryllis shopper activation at Fleurop Netherlands (2019) was a great success. At the time over 100% more bouquets were sold than expected. This year we are aiming for a similar level of success. The activation runs from 1 December to 24 December 2021. When customers purchase an amaryllis bouquet, they will have the chance to win one of ten interior styling packages worth €449 each. The package consists of interior advice from a stylist, a voucher to spend towards a interiors, and a beautiful boquet of amaryllises. Some 550 florists will be participating. A poster and countertop display has specially been produced for participating florists to us, and the promotion will also being supported online through a social media campaign with content on Mooiwatbloemendoen.nl and its associated social media channels.
The activation for consumers in Germany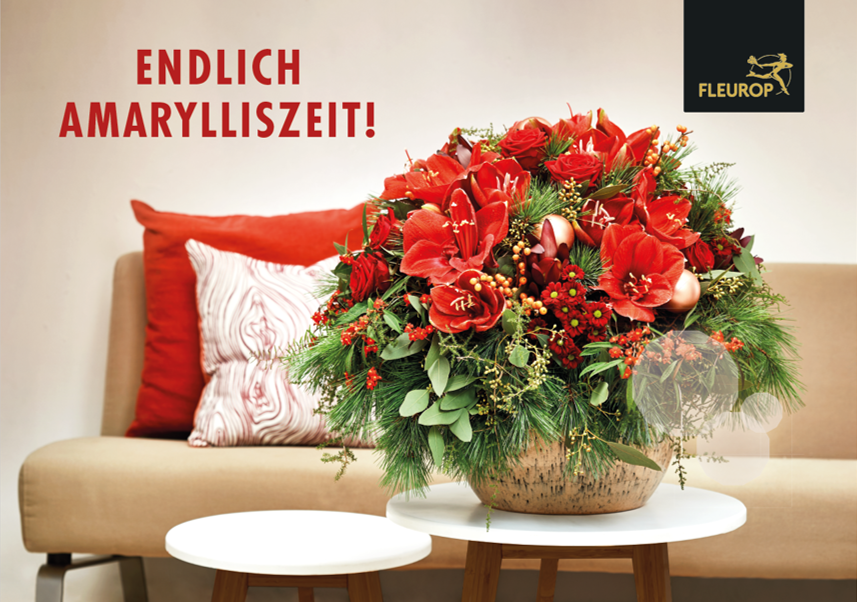 The activation is taking place for a second time in Germany. 350% more amaryllis bouquets were sold in 2020 compared to the previous year, so it's worth repeating the activation due to this success. From 24 November to 24 December customers who buy an amaryllis bouquet will again have the chance to win one of 100 bouquets to either keep for themselves or to give as a gift. The 1200 participating florists will receive posters and ceiling hangers to draw attention to the promotion. This is also being done through POS around the shops. Additionally there will be a social media campaign, and visible support from Tollwasblumenmachen.de and its associated social media channels.
More information 
If you would like to find out more about this shopper activation please contact Floris Wiebosch, Shopper Activation Marketeer, at fwiebosch@bloemenbureauholland.nl.
                  
November 2021