Bodenfrostfreitag campaign is here!
In April we launched the Bodenfrostfreitag (BFF) campaign in Germany for the second time. Once again we will be letting the German public know when it's safe to bring their plants outside, or alerting them in the event of night-time frost to bring their plants inside. This is a message that we will communicate using a humorous video. 
Bodenfrostfreitag - remind me what that is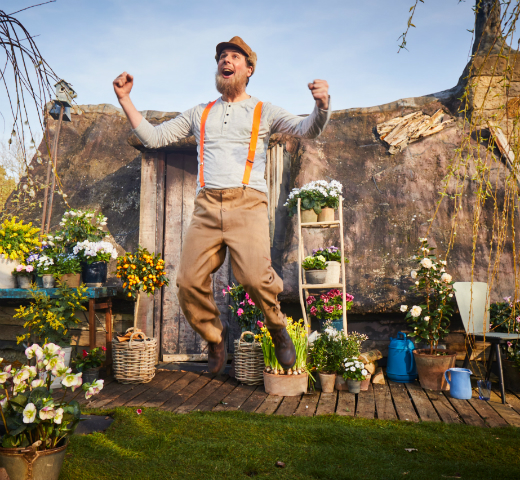 Bodenfrostfreitag is a top of mind awareness campaign around garden plants in Germany.  On Bodenfrostfreitag we celebrate the fact that it is officially the first day that garden plants can be placed outdoors worry-free and without the risk of night frost. Although that obviously doesn't mean that you have to wait until that day to put your gardening skills to work on the patio, balcony or garden, particularly this spring. We help the public with inspiring content and warn them with an in-app push message if there's a risk of night-time frost that will give them enough time to protect their outdoor plants from the cold. 
BFF 2019
The garden plant campaign will run between 1 April to Saturday 4 May. Friday 3 May is officially Bodenfrostfreitag. The campaign will particularly focus on the cities of Berlin, Munich, Hamburg and Cologne. In the initial phase we create awareness with videos in which an eccentric weatherman checks whether the night-time frosts have passed. The second phase is all about 'Hooray, it's Bodenfrostfreitag'. The videos will be supported with additional content on Pflanzenfreude.de and the social media channels.
Differences from 2018
Following the evaluation of the 2018 BFF results we have modified the campaign in order to achieve an even better result amongst the target group. The message has been refined compared to last year, and we are starting slightly earlier so that the campaign becomes even more relevant. The materials have also been slightly adapted so that they will appeal more to the segment Aesthetic Explorer aged 30 to 45.  
Want to know more about the campaign?
Please contact Isabel Groot, campaign manager at the Flower Council of Holland, on +31 (0)174 727 012 or i.groot@bloemenbureauholland.nl.