Hydrangea in the August Flower Agenda
Fresh green, bright white, sky blue, deep purple, lilac and pink. Flowers that can have a diameter of up to 25 cm that are shaped like fluffy clouds - the hydrangea is the ultimate symbol of high summer, the period of hot days, long evenings and sultry nights. When everyone takes it a bit easier. Hydrangea's soft round shapes fit with this and can easily be included in arrangements to provide a soft landing. 
Origin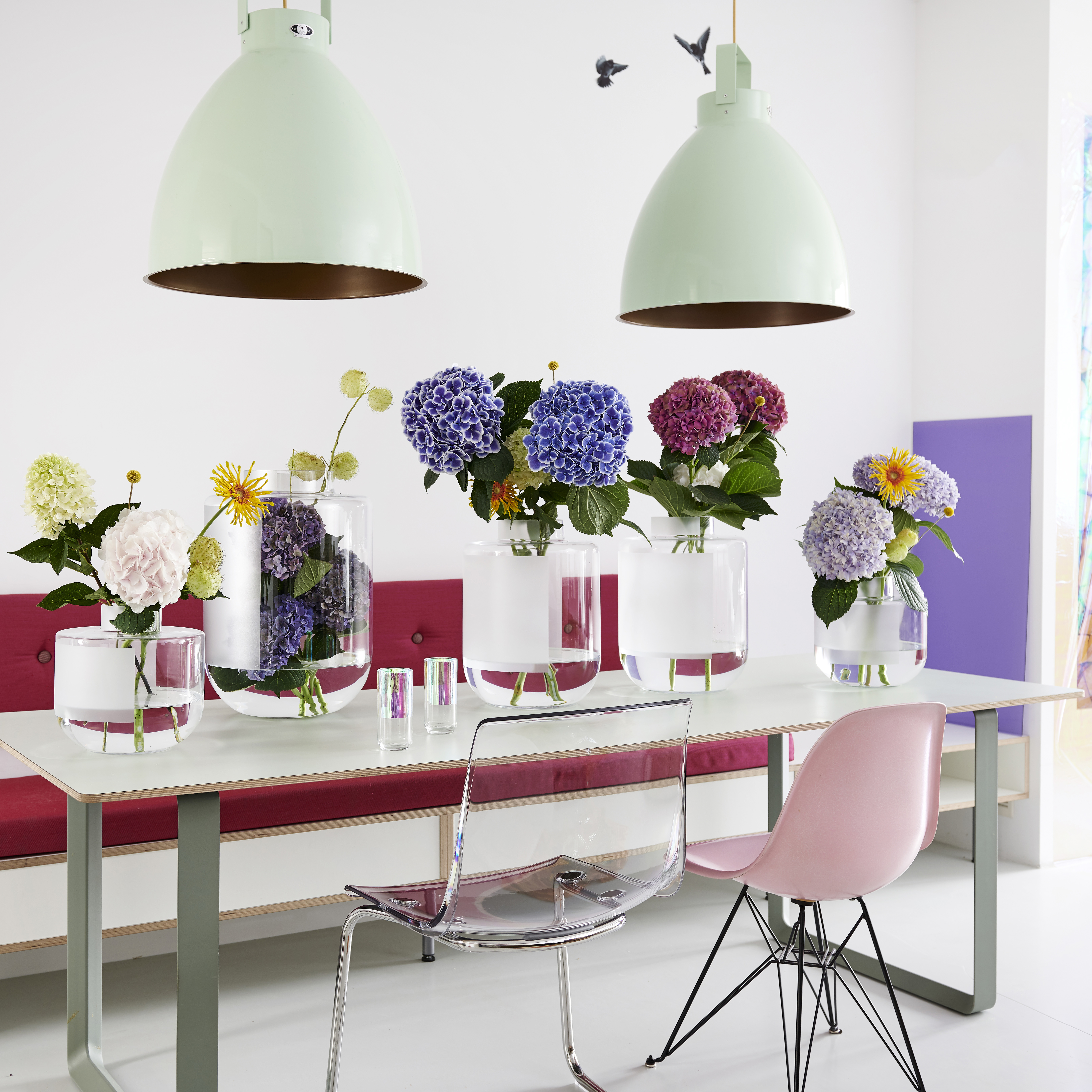 The hydrangea is a member of its own hydrangea family. The ancestral species Hydrangea macrophylla, from which most cultivars are derived, grows along the coast south of Tokyo in large numbers. The flower, which originates from Asia, arrived in Europe with the first Dutch East Indies Company ships and became popular in around 1735, surprisingly both in castle gardens and alongside farms.  
Assortment
The most common hydrangea is Hydrangea macrophylla with its globe-shaped blooms. There are both single-flowered and double-flowered varieties, from small ones with a diameter of 8-10 cm to very large with a diameter of 25-30 cm. H. macrophylla is available in dozens of cultivars in white, pink and green through to blood red and bicoloured. The grower can turn the flowers blue by adding special substances to the water. In addition to single coloured flowers, there are also bicoloured varieties. A total of some 150 different cultivars are available in August. The colour-changing hydrangeas are also available in that month for real enthusiasts. In addition to the cut flower with the round flower clusters, growers also offer Hydrangea paniculata with white and green plume-shaped flowers.   
What to look for when buying hydrangeas 
• Different cultivation conditions (light, nutrients, age of the crop) can produce very different results with the same cultivar. Ask for a real-time photograph of the product, particularly when purchasing online.
• Check the height, ripeness, flower diameter and whether it is a fresh or colour-changed hydrangea. The stem must be firm, straight and not twisted. 
• The flower must be free of pests and diseases. Hydrangeas can sometimes show botrytis (grey mould) on the flowers or the foliage.      
Care tips for professionals
• Place the flowers in sufficient fresh cold water, and always use cut flower food. Cut flower food will extend the lifespan of hydrangeas by over a week. That gives a vase life of 3 to 4 weeks.
• Hydrangeas can be used in a vase and in oasis, but cannot cope with being dry. You should therefore ensure sufficient water (2/3 in the bucket or vase) and pre-soak oasis thoroughly. Trim the stem diagonally to ensure good uptake of water.
• If the flowers are drooping when received, cut 3-5 cm off the stem and leave them in a cool space wrapped in paper for around three hours to take up water and recover.
• Preferably avoid using metal or zinc vases for hydrangeas; a glass vase is better. Remove surplus leaves and immature or unnecessary side shoots. Foliage that hangs in the water causes unnecessary contamination.
Display tips for professionals 
Style hydrangeas on trend in cool clear glass for a peaceful look, surrounded by colours such as lilac, pink and yellow. Adding some exotic companions makes it an extravagant high summer, but remember to leave space in the arrangements, as if a refreshing breeze could blow through them. 
Care tips for customers
• Cut a piece off the stem diagonally.
• Use a clean vase and fill it with tap water at room temperature. Hydrangeas prefer to being in glass rather than metal.
• Add cut flower food to the water for a longer vase life
• Ensure enough (2/3) water in the vase. Hydrangeas do not like having their water topped up.
• Do not place your vase of hydrangeas in a draught, in full sun or next to the fruit bowl.
• Make sure there are no leaves hanging in the water. That causes rapid bacterial growth in the water, which reduces the vase life of the flowers.
Inspiration & information
Inspiring images of every flower on the Flower Agenda have been produced in line with the Horticulture Sector Trends 2019 (Groenbranche Trends 2019). These trends are a translation of the latest consumer trends and are specifically aimed at the horticulture sector for use both indoors and outdoors. If you would like to find out more about the Flower Agenda read more here. 
Images for hydrangeas
Hydrangea is in the Flower Agenda in August. You can download and use these inspirational images free of charge if you credit Funnyhowflowersdothat.co.uk.
Instagram: @howflowersdothat
Facebook: @funnyhowflowersdothat
Twitter: @flowersdothat
Hydrangea poster
You can download the poster using the link below:
A3 Hydrangea Poster UK