Red Garden Plants: November Garden Plants of the Month
Looking for some cheer in the dark days before Christmas? Red classics like holly, Skimmia and Leucothoe provide colour and excitement in the garden. In the short days before December the garden is gradually settling into its hibernation. By adding Red Garden Plants there will still be plenty to see and experience when you look outside. Holly (Ilex), Skimmia and Leucothoe offer flowers, berries and fabulous coloured foliage in a spectrum from pink to bright red. Those colours not only counteract November's often grey days, but can also be used to create some natural festive cheer in the garden throughout December.
Origin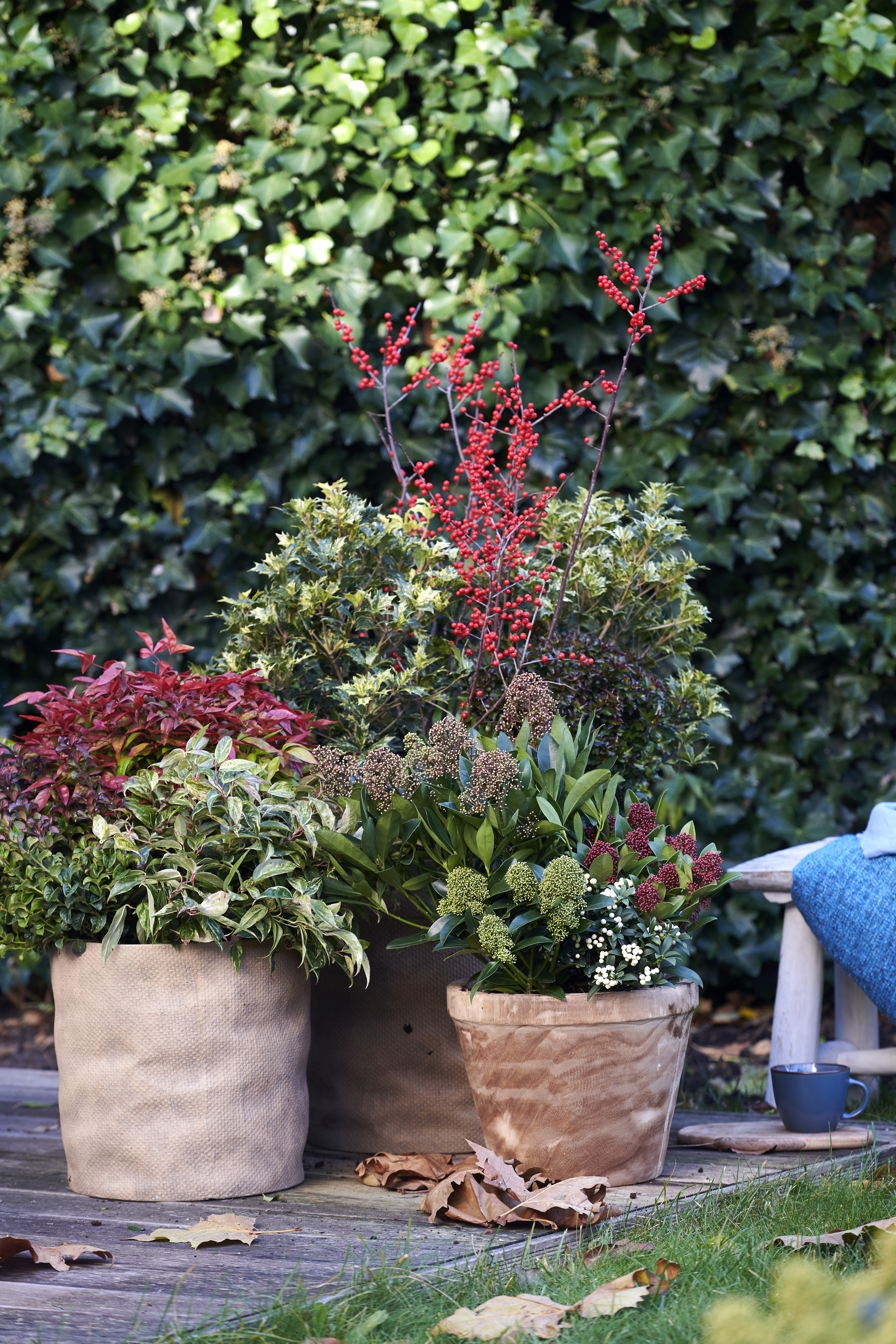 Holly grows in regions with a temperate climate, from high in the mountains to the coasts of Asia, Europe, North Africa, North and South America. In the wild Skimmia grows in the forests of China and other parts of Asia such as the Himalayas. And Leucothoe is particularly native to mountainous forest areas from North America through to the Far East.
Red Garden Plants assortment 
Holly offers evergreen leaves and bright red berries. It's a decorative shrub that provides some shine when the days are getting shorter. The most eye-catching is Ilex verticillata (deciduous holly). The long branches packed with bright red berries look their best when the leaves have fallen. Evergreen species such as Ilex aquifolium and Ilex meserveae are also very attractive.
Skimmia has green leaves and sparkling berries. The plant brings colour to autumn and winter, is green in the spring and treats you with fragrant flowers in late summer. Skimmia japonica features a number of cultivars with a dark red flower bud: 'Rubella' is the most common. Other cultivars are: 'Rubinetta', 'Rubesta', 'Red Dwarf' and the variegated 'Magic Marlot'.
Leucothoe is the chameleon amongst ornamental shrubs and changes colour in autumn from green to yellow, pink, red and purple. And those beautiful leaves stay in place all winter long. There are attractive varieties such as Zeblid / 'Scarletta', 'Red Lips' or 'Little Flames', 'Carinella' and 'Royal Ruby' or plants with curly russet leaves such as 'Curly Red' of 'Twisting Red'.
What to look for when buying Red Garden Plants 
When buying Red Garden Plants check the proportion between pot size, height and density of the plants.
With holly also check that there are sufficient (side) branches and berries present to make it stand out as a Red Classic.
With Leucothoe it's important that the leaves are in good condition and that there are no brown or old leaves on the plant.
All plants must be free of pests and diseases, although these species are not prone to them.
Giving good advice about position, soil type and use in the garden or on the balcony or patio at the time of sale will boost sales.
Care tips for customers
Holly prefers to be in full sun to partial shade, Leucothoe in partial shade with a couple of hours sun, and Skimmia's berries develop best in the shade.
Red Garden Plants do best on well-draining soil and do not like to be moved: give them their own spot from the start.
Leucothoe need slightly more water than the other two.
Only prune holly and Skimmia if necessary, prune Leucothoe after flowering in June before its autumn display.
All these Red Garden Plants are hardy and become more beautiful every year.
Sales and display tips 
Red Garden Plants look wonderfully contemporary in a restrained, clear arrangement at various heights. The containers can reference recycling - such as metal barrels, crates or zinc containers - to reflect the sustainability trend. The colours are understated: black, white, grey, brown and matt blue to offset the powerful green and red of these garden plants.
Red Garden Plants images 
You can download and use the images below free of charge if you credit Thejoyofplants.co.uk.
Instagram: @thejoyofplants 
Facebook: @thejoyofplants
Twitter: @thejoyofplants
Red Garden Plants poster
You can download the poster using the link below:
Red Garden Plants A3 Poster