The peony: in the June Flower Agenda
It's June, and that means it's time for the gorgeous peony! This beauty will be shining in many vases this month, but can also be seen extensively in bridal bouquets and striking centrepieces. Consumers can read all about the phenomenal peony at Funnyhowflowersdothat.co.uk. 
Tempt your customers with the peony this summer.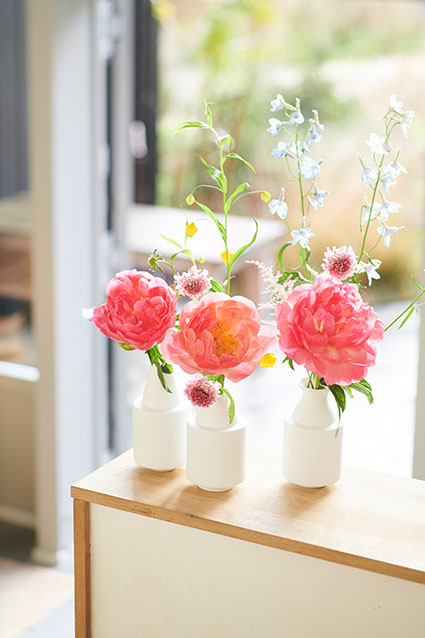 The peony's origin​ 
We have been enjoying the magnificent peony in Europe since 1784. In China they had fallen under its spell long before that. There the peony was cultivated not only for its flowers, but particularly for its roots. According the Chinese it could be used to reduce fever and clot blood. But we don't recommend putting the peony in your mouth - stick to enjoying its beauty with your eyes.   
The peony's colours and shapes 
Anyone who falls for the charms of the peony is in luck: there are more than 1000 varieties available in all sorts of shapes and colours. They come with a single row of petals, or with semi-double or double flowers. There is also ample choice in terms of colour: the cheerful peony comes in pale yellow, romantic white, candy pink or dark red. And the fragrance of peonies is particularly appealing and beautifully sweet!     
Caring for peonies
Trim 5 cm off the stem diagonally with a sharp knife.
Use a clean vase and fill it with fresh water.
If your peonies are thirsty top up the vase.
Don't place the vase in a draught, in full sun or near a fruit bowl.
Symbolism of peony
The peony represents love, happiness and health, amongst other things. It's no surprise that the peony is a popular guest at spring weddings. But it's not just lovebirds that are attracted to this flower. Surely we can all benefit by bringing a big bunch of positivity and love into our homes?
Bouquet recipe with peonies
Some flowers have the X factor. They're just a bit more flirty, their petals more flamboyant, the fragrance a little sweeter and they have a look to capture your heart. Peonies undoubtedly have the talent to enchant you. This bouquet recipe is a true showstopper to display on your table. A stunning creation to turn others green with envy.  
What you need:
Peonies
Lilies
Viburnum
Carnations
Veronica
Delphinium
Milfoil (Achillea)
Lady's mantle (Alchemella)
More about the peony 
Consumers can also find special DIY craft projects involving the gorgeous peony at Funnyhowflowersdothat.co.uk. Got a wedding, birthday or other celebration coming up? Then try making your own over-the-top peony chandelier!
PEONY CHANDELIER DIY
Inspiration and information
If you would like to find out more about the Flower Agenda click here.