Thejoyofplants.co.uk launches Plant Design
Alongside the successful Thanks Plants campaign which highlights the positive effect of plants on our well-being, Thejoyofplants.co.uk is launching a new content campaign: Plant Design.
What is Plant Design?
Gorgeous interiors shots with plants appear in abundance in the interiors magazines and on Instagram and Pinterest. Plants are often used as decoration, to provide the finishing touch. But what if you grant your plants the same role as your indispensable furniture? What if you started the design of your home with the plants, and only then added other home furnishings? In other words: plants as design objects, designed by Mother Nature. 

Plant Design: the art and science of improving an interior by using a living design object in order to create a healthier and more attractive living space. 

It's pretty wordy, and quite a statement. But in order to elevate plants from an item of decoration to a design-worthy interior object they have to play a leading role and be given the respect and status that plants deserve. 
Online Masterclasses
How do we explain this to the consumer? Through online Masterclasses. We have found three masters who are all involved with plants and design in their own way. They share their vision and tips in a short 5 minute masterclass.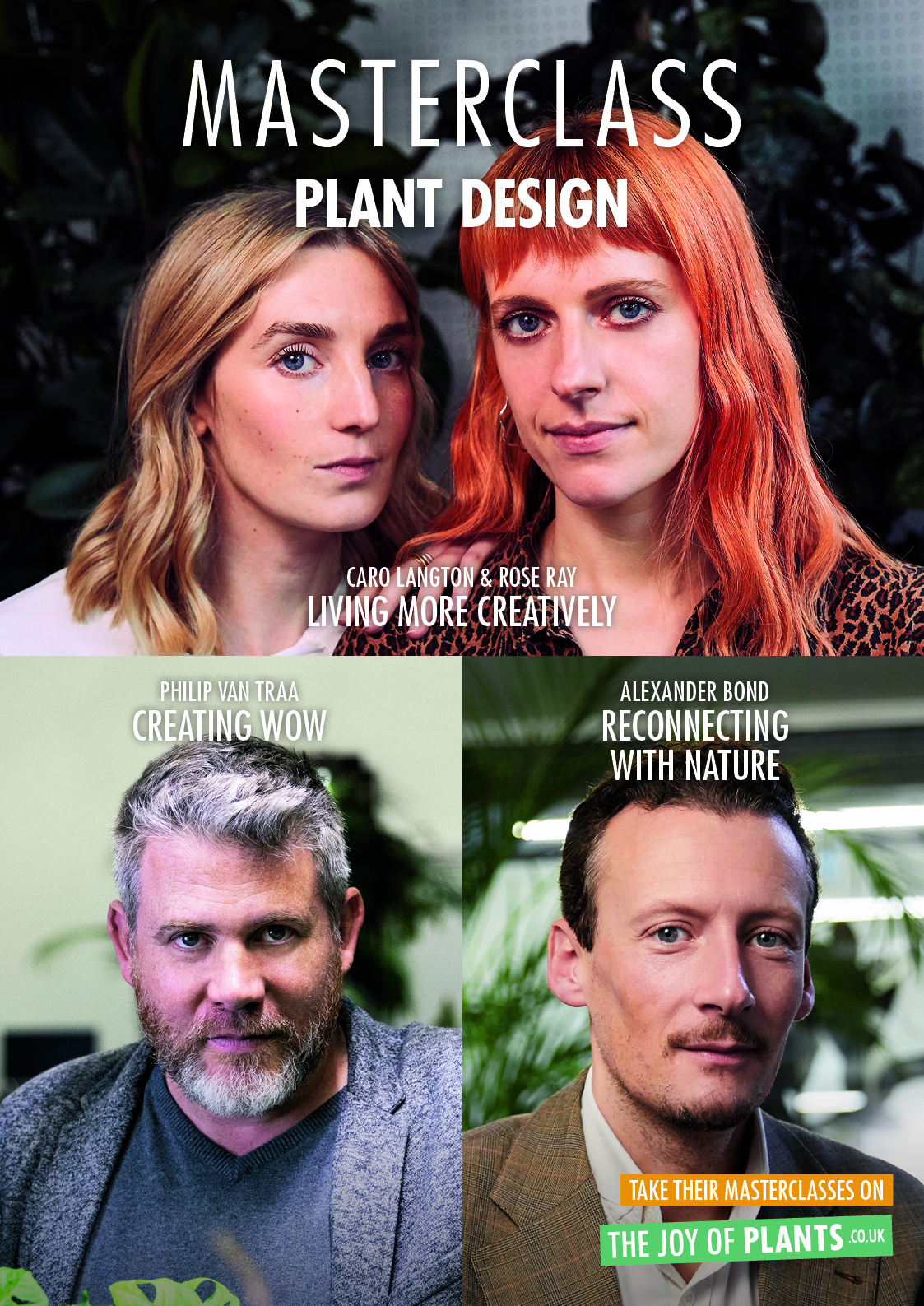 The masters:
Biophilic designer, who tells you what role plants play in your interior/work environment and how you can bring nature closer. 
www.biophilicdesigns.co.uk
Co-founder and plant specialist at moss.amsterdam tells us how plants can create a real wow effect. 
www.moss.amsterdam
Two British women, Caro and Rose. They advise on how to be creative with plants.
www.ro-co.uk
Campaign
We will be launching the Masterclasses on the channels of Thejoyofplants.co.uk and the sister sites in other languages on 20 January. Media will be purchased in Germany and the Netherlands to promote the masterclasses. The campaign is running on YouTube, because we expect to be able to generate the biggest reach there. The media campaign will run for three weeks. 
The Masterclasses
Rich content dossier
Alongside the masterclasses we are offering a rich content dossier which provide readers with further information around the topic. Information with which we encourage them to start applying Plant Design in their own home. We inspire with eye-catching Plant Design initiatives, and give tips on how to apply it themselves. Following the campaign period we will continue to cover the topic of Plant Design throughout the year, with articles on our own website and social media as well as collaborations with interesting content partners, both online and offline.
Materials
If you would like to highlight the Masterclasses and the idea of Plant Design, we have developed some posters that can be downloaded below. If you are interested in showing Masterclasses on your screen(s) in your shop or office, please e-mail m.kemperman@bloemenbureauholland.nl.
To place the Masterclasses on your website, you can embed the videos from YouTube from 20 January. 
The YouTube films can be used on your website from 20 January and the campaign posters can be downloaded below.
Poster alle Masters liggend Engels