Trend Collections 2023 announced
14 June 2022
The plants and flowers for the Spring/Summer and Autumn/Winter 2023 collections
The Flower Council of Holland annually present The Trend Collections. These collections include a selection of flowers and plants that have been chosen in close collaboration with various relevant parties in the horticultural sector. The criteria for selection are based on availability and PR value, as well as current trends in the sector. For 2023, these trends are Collecting Memories and Vintage Folklore.   
Afbeelding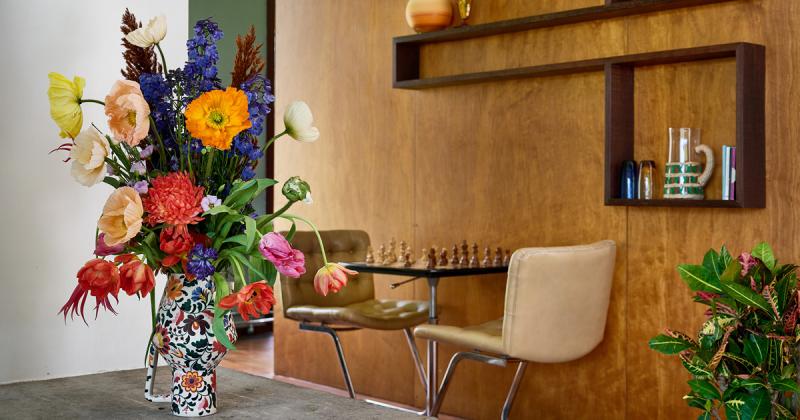 Spring/Summer 2023 trend and selection  
The first Trend Collection for 2023 is based on the horticultural sector trend "Collecting Memories". This trend is based on the sense that in an ever-changing world, there is a strong need for memories. It offers soothing products that help create a home in which fond memories can be stored and cherished. That is why for this collection, flowers and plants were chosen that have a distinct poetic character and represent softness and harmony. We have found those traits in the following selection: 
| | | |
| --- | --- | --- |
| Flowers | Houseplants | Garden Plants |
| Dill | Blue Star Fern | Garden Herbs |
| Ranunculus | Araucaria | Cherry Blossom Tree  |
| Rose | Anthurium | Eucalyptus |
| Carnation | Bromeliad | Poetic garden plant mix (Kingfisher daisy, Water hyssop, Petunia, Cape primrose, Fuchsia, Dianthus,  Gypsophila)  |
| Scabiosa | Hydrangea |   |
| Dahlia | Ficus |   |
Autumn/Winter 2023 trend and selection 
For the Autumn/Winter collection, inspiration was found in the Vintage Folklore trend. In this hardened society, we feel the loss of connection and harmony. A loss we would gladly like to restore. As such, Vintage Folklore represents the attention for diversity and a product's useful life. Its motto is not to throw out, but to repair and patch up with love. In this trend, bouquets (and flowers) are mostly wild and colourful. Plants are also cherished, even the misfits. This is represented in the following flowers and plants: 
| | | |
| --- | --- | --- |
| Flowers | Houseplants | Garden Plants |
| Hyacinth | Azalea   | Sedum |
| Chrysanthemum | Croton | Viburnum |
| Delphinium | Ceropegia | Viola |
| Stocks  | False Aralia  | Checkerberry  |
| Kalanchoë | Calathea |   |
| Tulip | Primula |   |
|   | Phaleanopsis |   |
Background of The Trend Collection 
The Flower Council of Holland develops two Trend Collections every year to fit with current lifestyle trends: one collection for Spring/Summer and one for Autumn/Winter. These collections are linked to the Celebrate Seasons growth platform. The Trend Collection will have its fourth run in 2023. It allows us to meet the needs of consumers, which constantly change. This way, we ensure that flowers and plants will remain top of mind with both consumers and the press all year round. Next to a selection from the top 20 products, we also focus on smaller niche products. They are often particularly interesting for the press, which increases the chance of exposure. 
More information
For more information about The Trend Collections, please contact Isabel Groot, Campaign Manager, via igroot@bloemenbureauholland.nl.
                  
June 2022