Flower Flashes Brought Joy to Iconic London Landmarks
10 June 2021
Funnyhowflowersdothat.co.uk teamed up with US floral genius Lewis Miller and Royal floral designer Simon Lycett to surprise Londoners with a series of secret 'Flower Flashes' for the We Need More Flowers Campaign finale. 
On Monday 7 June, three extraordinary floral installations appeared overnight in central London. Three classic red phone booths, an unassuming wheelie bin in Brick Lane, and the iconic Eros Statue in Piccadilly Circus were adorned with bright seasonal flowers to delight passers-by.
Flower Flashes
Dubbed the Botanical Banksy, Miller's New York installations in taxi cabs, trash cans, building sites and hot dog stalls have attracted world-wide attention and praise for transforming everyday parts of the city into interactive floral explosions of colour and life. This is the first time he has brought them to life outside his native New York. 
The London flower flashes were part of Funnyhowflowersdothat.co.uk's latest 'We Need More Flowers' campaign which celebrates flowers and remind us why we need more of them in our lives. With online sales of flowers rocketing by 277% during lockdown in the UK, flowers have become a potent symbol of hope and connection. 
More than 12,000 fresh blooms from New Covent Garden Flower Market were used in these floral extravaganzas. The classic Summer palette and spirit of the city have inspired Lewis's vision. But these living sculptures weren't just designed to be admired from afar. The public were encouraged to pick flowers from noon to take home and create their own bouquets. 
Nationwide news coverage

Afbeelding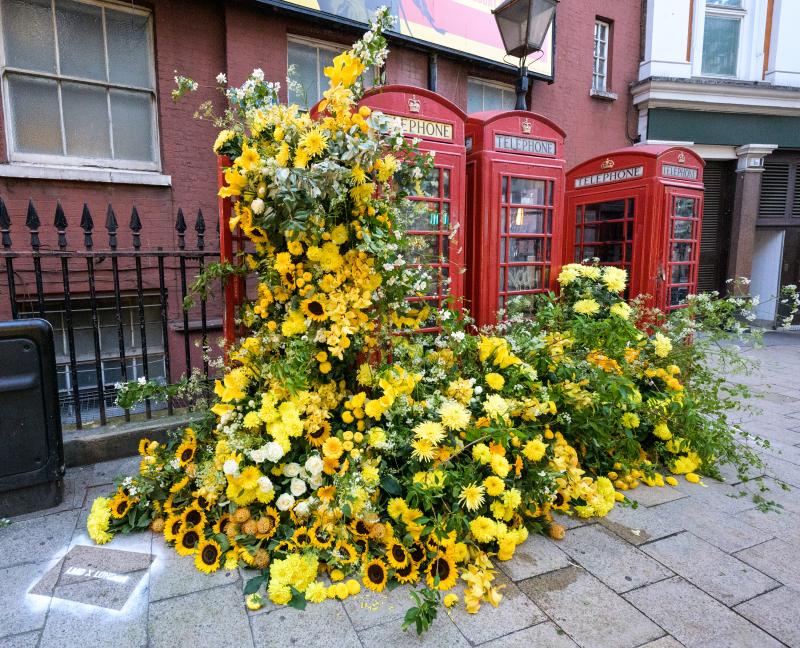 London news channels were certainly ready for a feel good story, and journalists and photographers were already on location before sunrise.  
Broadcasts included:
ITV News ran the story on the 6pm news, and a full 3 minutes was dedicated to a segment on BBC News at 6:30pm, and again at the 10:30pm news highlights.
Online coverage titles included:
​​ITV News (MUU: 2,028,360) featured the story online ahead of the news segment later that evening, and also a 15 minute radio interview on BBC London Radio (469,000 weekly listeners). 
Print titles included:
Metro (circ: 1,426,535)
The Times (circ: 365,880)
The Daily Telegraph (circ: 317,817)
Daily Express (circ: 251,736)
The i Paper (circ: 215,640)
...and many more.
"My Flower Flashes are designed to be as temporary and ephemeral as the blooms themselves." Lewis said. "The almost childlike excitement on people's faces when they stop and connect with my work is immensely gratifying. I kicked off Flower Flashes back in 2016 with a simple ambition; to juxtapose the purity, fragility and vibrant colour of flowers with the concrete, steel and gritty brutality of the urban environment…a fleeting calm mental oasis amidst the chaos of city life." 
Chanel de Kock, UK Country Manager comments: "Our We Need More Flowers campaign seeks to remind people how flowers are central to so many of life's important moments. We have long admired Lewis's work from across the pond and now seemed like the perfect opportunity to bring his unique style of guerrilla floral street art to London to celebrate the city opening up for the summer. We need more love, more real, more together, and we certainly showcased that in London on Monday."
About Lewis Miller
Lewis Miller, a high-profile, US-based floral artist who has worked with fashion and luxury brands such as Bulgari, Ferragamo, Tiffany, Valentino, Versace and Viktor & Rolf. Lewis is more widely known for his guerrilla floristry displays, put together in the early hours of the morning and placed in various locations – bus shelters, at the base of monuments, around traffic signs - in the city. This project with The Flower Council of Holland marks the first time Lewis has created Flower Flashes outside of the US.

Afbeelding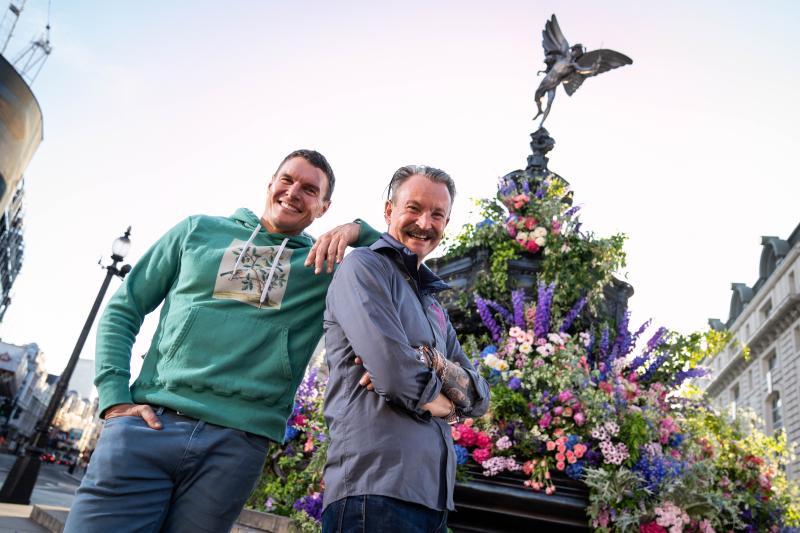 About Simon Lycett
Event Florist, TV Presenter and Author,
Simon Lycett
has created several Royal wedding decorations, most recently for the wedding reception of HRH Princess Eugenie and Jack Brooksbank. Simon is regularly on TV and has presented the BBC2 documentary 'The World' Biggest Flower Market'. Simon is also a frequent guest at the BBC Radio London. Simon spent the first part of 2021 in Los Angeles filming his second series of 'Full Bloom', a floral design competition for HBO Max with Simon as serving as Host Judge. Simon also runs floral Masterclasses. Simon is passionate about British floristry and seasonal flowers and devotes much of his time to raising the profile of British Floristry. Simon has recently published his seventh book.  
About New Covent Garden Flower Market
New Covent Garden Flower Market is home to 20 world class floral wholesalers including two Royal Warrant holders who supply flowers and plants to the country's most prestigious households. The Flower Market is at the heart of the floristry industry in London and beyond, supplying the majority of London's independent florists, from high street retailers to high-end event companies and with the market's flowers ending up in royal palaces, shops, market stalls, hotels, offices, parties, homes, weddings and funerals. The market has been feeding and flowering London for 800 years. Many of the traders at the market are third or even fourth generation and these ladies and gentlemen are the thoroughbreds of the floristry world, holding an exceptional level of knowledge and expertise on flowers, plants, foliage and sundries through the decades and from around the world.
Want to find out more?
For more information on this project, please contact Chanel de Kock, Country Manager UK at: cdekock@flowercouncil.co.uk.
June 2021