Orchid shopper activation at Albert Heijn
09 October 2019
'Buy an orchid now and get an attractive plant pot as a gift.' That was the message of the shopper activation that took place between 7 and 13 October 2019 at Dutch supermarket retailer Albert Heijn.
Afbeelding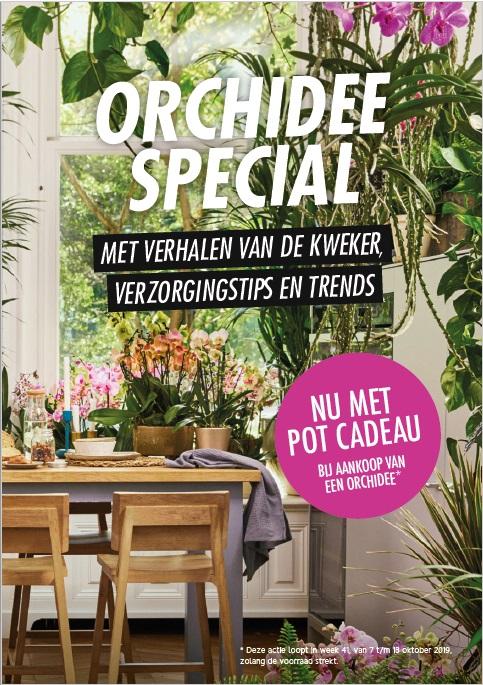 A summary of the activation​
Tempting consumers to buy an orchid was the idea behind this activation. And instead of a discount, shoppers enjoyed an added bonus with their purchase: a plant pot in trendy colours that lends the perfect finishing touch to the orchid. 
Collaborating parties​
This Dutch shopper activation was developed by the Flower Council of Holland and was rolled out in collaboration with wholesaler Waterdrinker, end-customer Albert Heijn and the growers' association Orchidee Nederland.
Luxury range
The activation covered both the standard and the luxury orchid ranges, which featured unusual shapes and multiple stem varieties. Regardless of whether the customer bought a Phalaenopsis, Miltonia, Brassia or Cambria, they received a complimentary pot with every orchid purchased.
At participating Albert Heijn stores​
The promotion took place at 720 Albert Heijn stores, of which around 200 stocked the luxury range. Customers could check which stores participated at Mooiwatplantendoen.nl/AHorchidee. 
To and in the store​
An inspiring Orchid booklet, which was included as an insert in Allerhande magazine (the supermarket's monthly magazine), encouraged customers to buy orchids at Albert Heijn. Consumers were also alerted to this orchid offer via social media. The POS material, including the plant sleeve and AH cart, drew shoppers' attention to this in-store promotion.
More information
If you would like to find out more about this shop activation, please contact Jacco van der Hoeven, shopper activation marketeer on +31 (0)174 72 70 28 or j.van.der.hoeven@bloemenbureauholland.nl.