Thanks Plants campaign evaluation: Working (from home) with plants hits the right note
11 December 2021
We keep saying it: you feel better with plants around you. That certainly also applies to the (home) workspace - the hot topic in 2021. Concentration, creativity and calm: plants ensure that you have that in your workspace, and we thanked plants for that this year in particular through the Thanks Plants campaign.  As with all our major campaigns, research agency Motivaction investigated its effectiveness.
Improved ratings and appreciation 
Afbeelding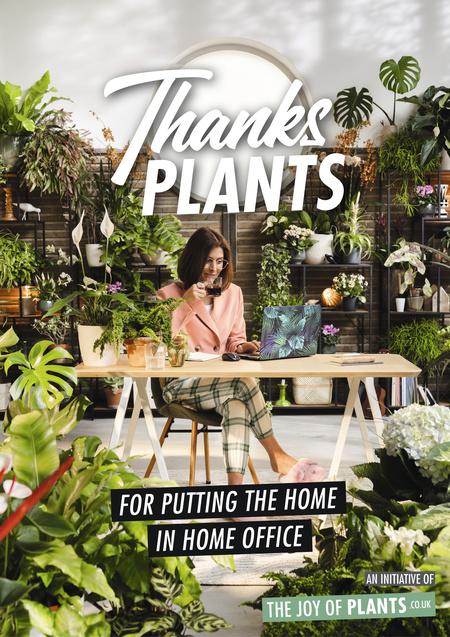 The intended target group, the
Aesthetic Explorer
, gave the campaign a rating of 8.5. Last year this was an 8. In addition, 90% (previously 82%) of the target group indicated that they found the campaign appealing, 81% (previously 76%) felt the campaign was personally relevant, and 92% (previously 89%) thought the campaign was fun. 97% of target group also said that the campaign was easy to understand.
Increased intent to buy
77% of the target group felt encouraged to go and buy plants; last year this was 71%. Alongside the direct effect on the intent to buy, 33% also indicated that they would be buying more plants for themselves over the coming twelve months, and 28% that they would be giving more plants as gifts.
The campaign in brief 
The campaign did not run in all four core countries (Germany, France, United Kingdom and the Netherlands) at the same time. But the same resources were used: YouTube, Facebook, Instagram and Pinterest – and digital out of home advertising (except in the United Kingdom). The other pillars of this campaign were PR activities, influencer collaborations, and content on Thejoyofplants.co.uk and its sister channels in Germany, France and the Netherlands. There were also a number of shopper activations around Thanks Plants.
PR in the United Kingdom: The Houseplant Hide-out
In the 'concrete jungle' at Boxpark in London's trendy Shoreditch, we placed an unusual installation where press and consumers could immerse themselves in a world of plants and experience the effect on their wellbeing. Here too we established a link with working (from home). We collaborated with award-winning Designer DaeWha Kang and Ethno Botanist and TV Presenter James Wong on the installation. Watch the video to discover this plant experience for yourself.
The results are very impressive. The PR activities resulted in 78 articles, of which seven in national print media. These include daily newspapers such as the Daily Mirror, the Sun and the Daily Express. The remainder were online and/or regional, whereby most also included the video. In total we achieved a reach of over 1.2 billion contacts.
PR in the Netherlands: the Career Plant 
Editors of magazines such as vtwonen, Jan, Libelle, Volkskrant Magazine, Metro and Telegraaf Werk were visited by a bus and invited inside for a short coaching session in which they discovered which plant fits with their goal: greater creativity, greater focus or more motivation? There was a personal 'Career Plant' for each of their needs. This test also appeared online at Mooiwatplantendoen.nl.  We cannot share the final outcome of the PR activities, because a number of articles are still due, such as in LINDA Magazine - March 2022 edition, Beaumonde.ml in November/December, and MarieClaire.nl in week 48. We are still in discussions with a number of publications.
PR in Germany: zooming in on the green workspace 
The PR approach in Germany had three elements. In mid-August consumer media editorial teams receives newsflashes with green workspace tips. We also used a live experiment to enable editorial teams of lifestyle magazines to discover for themselves what plants in your workspace can do for you. We worked with them to choose a number of plants to bring greenery to their own workspace. Finally, we researched the relationship between German home workers and their plants. A summary of the results: this three-stage approach resulted in 87 articles of which 30 were in print, with a reach of over 205 million consumers and media value of almost €800,000. Read an article that resulted from the live testing.
PR in France: le Bureau Merci les Plantes 
In addition to the customary press releases, journalists, influencers and random members of the working public were invited to come and work amidst greenery. That took place in a co-working space that was transformed into an office jungle to give a high level of work enjoyment: "Bureau Merci les Plantes". The results: 133 articles of which twelve were in print, four on the radio, 30 online (including Elle.fr) and the vast majority of posts and stories produced by influencers, with a total reach of over 24 million consumers.
Influencer collaborations
The influencer campaign has not yet been entirely completed. The results of this will follow in due course.  
More information 
Please contact Monique Kemperman, Campaign Manager at the Flower Council of Holland, at mkemperman@bloemenbureauholland.nl.
                  
December 2021