The economy is recovering, while at the same time we find ourselves in a digital bubble. This combination results in the Romance 3.0 style trend. We surround ourselves with people and opinions that are the same as ours, and as a result, our view of the world appears magnified. Everything is amplified, so materials are too. They are super-luxurious, with full and opulent shapes and rich, intense colours. Decadence!  
Romance 3.0 in the interior
In the interior we combine warm colours with patterns. Everything seems to have been worked, and inspired by florals. Combinations of rich materials give a decadent appearance. Flowers and plants are used abundantly - we see warm colour combinations, large flower shapes, full bouquets. And large plants, both flowering and green, sometimes with an exotic appearance. Arrangements appear to merge into the background, so that the wallpaper pattern fights with the plant placed in front of it for attention.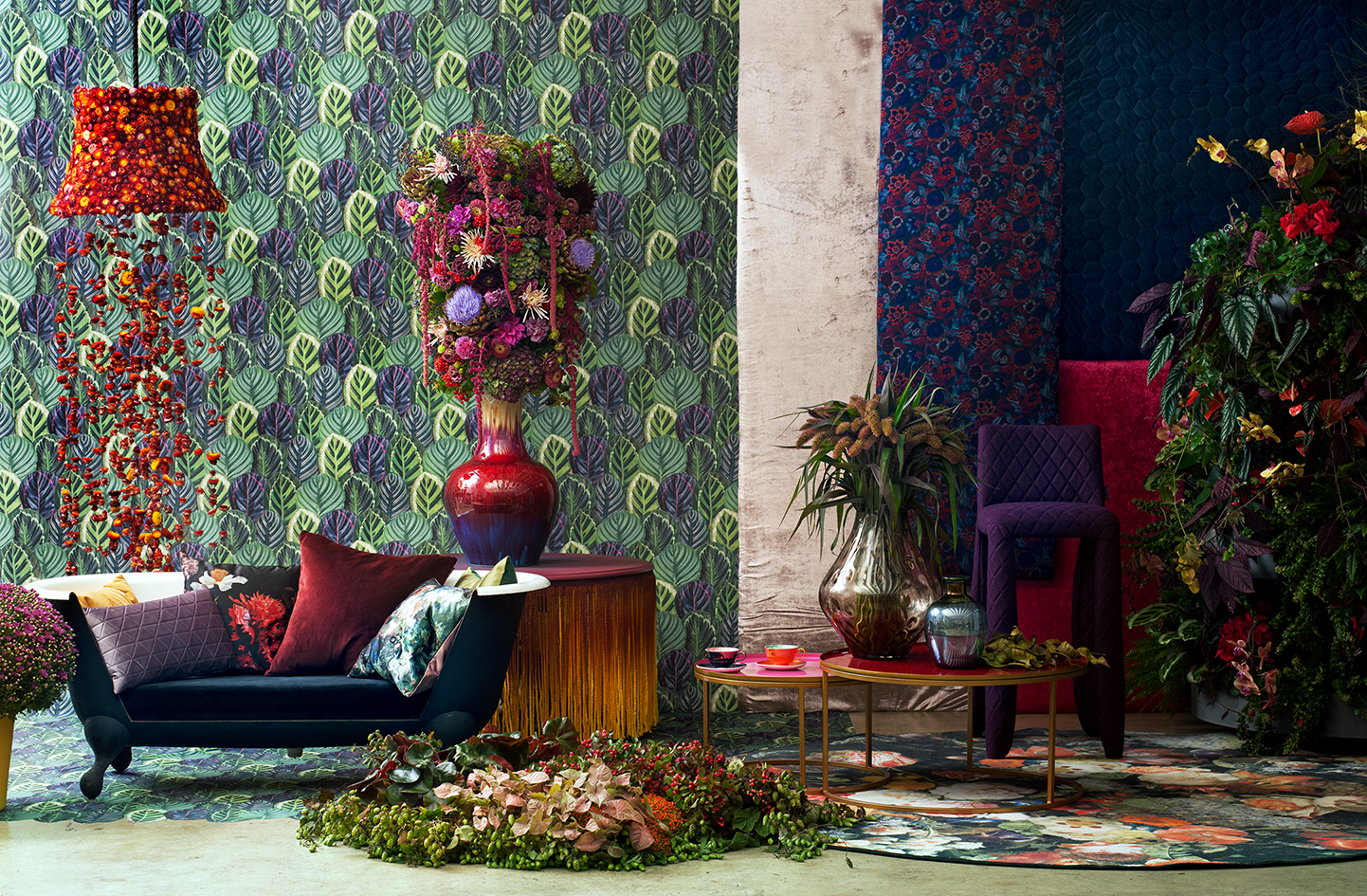 Romance 3.0 outdoors 
We view the garden as a luxury interior space with random, richly blooming borders, sloping shapes and we use soft, comfortable or richly decorated furniture. For the paving we use luxurious materials such as marble. The shapes are full and overblown as if everything has been inflated a bit. Gold and copper still play an important role.  
Shapes 
The shapes used are voluminous, extravagant and engaging, extra-full and extra-decorative. Indoors we see romantic details in the shapes, whilst in the garden shapes particularly have a full, round volume.   
Colours 
The colours used are diverse and rich, both pastels and intensive darker shades. Purple makes a comeback in the interior. In the garden, blooming borders determine the colours.   
Colour Chart - indoor

Colour Chart - outdoor

Materials 
Luxurious materials like velvet and marble play a leading role alongside wood, glass, copper, ceramic and leather. Materials are high quality, and have sometimes undergone further reworking such as embroidery, printing, shaping or dyeing. 
Patterns 
Many patterns have a floral origin, but animal skins are also used as a source of inspiration. The patterns are often used layered, such as a woven structure with a flower print. Loose (flower) applications are placed over existing patterns. We also see additional decoration on 'hardware' in the garden.