Collecting Memories
In a constantly changing world, there is a need for remembrance, for comforting products. A home where we can find the peace to cherish memories dear to you.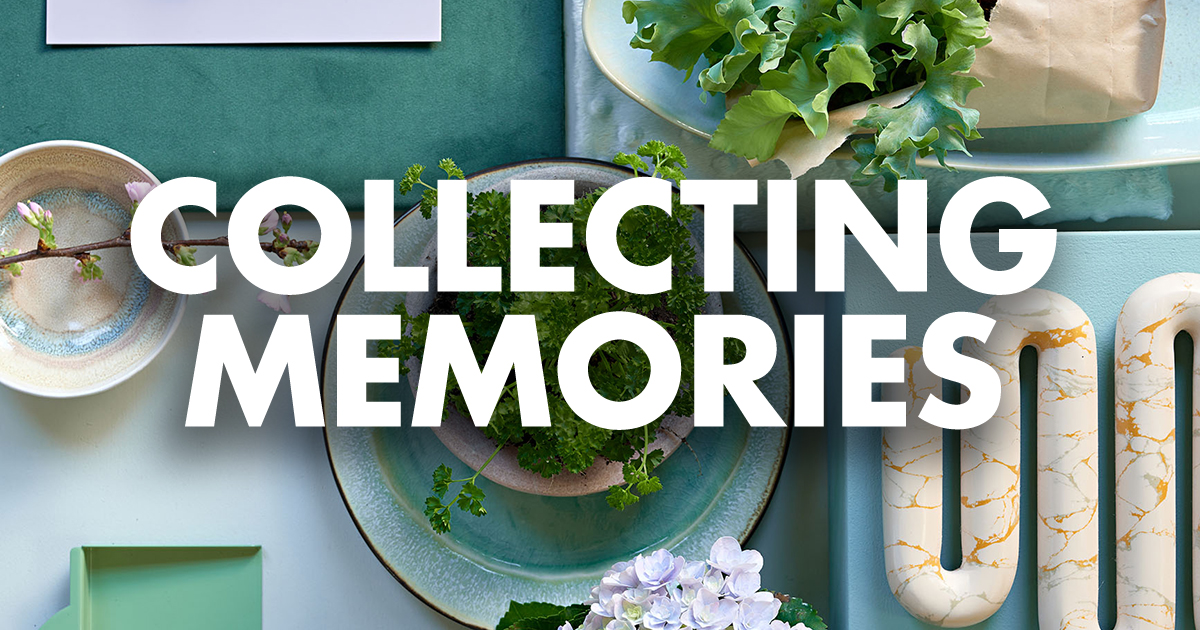 Collecting Memories in the interior
We like to surround ourselves with recognisable products that offer a sense of comfort. Colours play an important role in this as well. Soft and darker shades of green offer comfort and a sense of safety. Lilac and pink represent softness, memories and poetry. Flowers and plants fulfil this feeling of safety and memories. In bouquets, each separate flower seems to have meaning. Combined, they form a beautiful poem.
Collecting Memories in the outdoor space
We also find harmony and poetry in the garden. Elegantly winding paths, transparent borders, and intimate terraces invite you to unwind. Colourful garden furniture consists of nostalgic wickerwork, plants have fine leaves and lovely flowers. We see a wide diversity of flowers and plants in soft colours, creating an ambience of melancholy.
The trend's product components
The shapes used are nostalgic and recognisable, frequently featured materials in this trend are pottery, porcelain, artisanal wickerwork, enamel, reed, zinc, cast iron, as well a natural textiles like wood, cork, and leather. The patterns are calm and unimposing. They sometimes refer to nostalgic patterns, such as weaves and wickerwork. The flowers are delicate and poetic. In natural bouquets, attention is paid to each individual flower. Important elements are smaller: delicate flowers and fine-structured leaves. We also see erratically shaped plants and plant pots, and older plants that have fused with their environment. They give this trend a unique appearance.
Collecting Memories colour palette
The colours in this trend are soft and harmonious. What stands out is the large number of greens, ranging from a light blue-green to dark. These colours are combined with a yellow olive green. As a result, we get a new harmony in a familiar green colour palette. Next to green, we see white, lilac, and pink.

Core values of this trend
The core values within the Collecting Memories trend are: poetic, delicate, nostalgic, soothing, meaningful, familiar, memories, artisanal craft, with attentionto a harmonic, narrative.
More information
Read more about the other three Horticulture Trends 2023: Ode to Nature, Vintage Folklore, and Layered Spaces.