Vintage Folklore
In this hardened society, we feel the loss of connection and harmony. Loss of respect for relationships and different opinions, but also of respect for the environment and products around us. We want to restore this. That is why Vintage Folklore represents attention for diversity and for a product's useful purpose. The motto is not to throw out, but to repair and patch up with love.
Afbeelding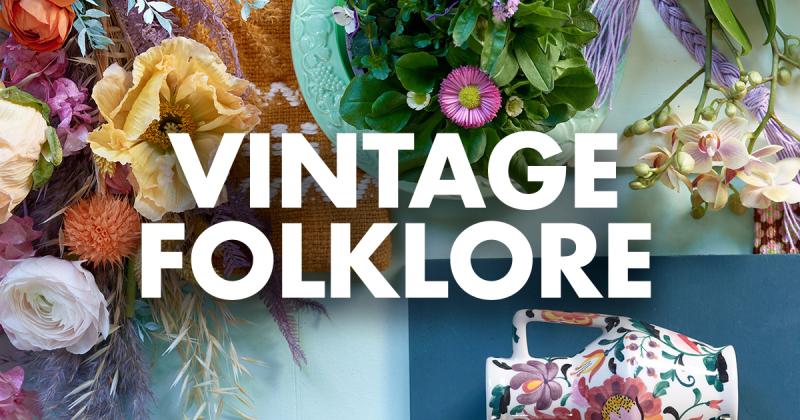 Vintage Folklore in the interior
This trend leads to an interior as a colourful collection filled with love and respect for the product. It has influences from the 70s, from rustic folklore, handicraft, fine flower patterns, but also composed of different products and materials, damaged and broken shapes as if they were glued together. This results in a personal interior with a welcoming, warm feel. Think soft furniture with round shapes, coloured plates on a wall and patchwork. Bouquets are colourful and wild, with dry-flower details. There are plants everywhere and each one of them are cherished, even the misfits.
Vintage Folklore in the outdoor space
Outside, we also see a garden form more spontaneously through the use of elements that just so happened to be there. Like a patchwork in which each piece has been created separately with love and care. This makes for a creative garden or balcony, riddled with beautiful recycled finds, where everyone is welcome and where anything is possible and allowed. Here, you can find multicoloured garden furniture, patterned fences, and a vibrant collection of plant pots.
The trend's product components
Vintage Folklore contains many materials that nod to the 70s. Jersey, bouclé, corduroy, textile, crochet and knitting works, veneer, tiles, and pottery are examples of this. The shapes are also inspired by the seventies and rustic folklore. Handicraft, recycling, and upcycling determine the design. We see the same sources of inspiration for patterns, with alternated patterns that form a harmonious whole. Patterns with flowers also feature heavily.
Vintage Folklore colour palette
The colours in this trend are happy and diverse, and at first sight, do not quite seem to match. Expect a colourful palette with natural and bright shades and pastels next to darker colours. In short, a colour chart full of potential colour combinations.
Afbeelding

Afbeelding

Core values of this trend
The core values for Vintage Folklore are: diverse, respect for the product, vintage, attention to the product's lifecycle, colourful collection, rustic folklore, DIY, creative, influences from the 70s, and small flower patterns (millefleur).
More information
Read more about the other three Horticulture Trends 2023: Ode to Nature, Layered Spaces, and Collecting Memories.