Style trend Harvesting Elements
This style trend is about sustainability and all our tomorrows. Our concern about the future is leading to more restrained choices and a new sense of responsibility. The sustainability of our immediate environment, as well as that of the entire planet is a recurring theme. 
Harvesting Elements in the interior 
In the interior this trend leads to calming interiors where rhythm and the pure product counts. The sustainable approach leads to a real revival in recycled materials that retain their authenticity. This means that the composite materials and products do not look perfect; instead, you can see their history. Flowers and plants also play a special role in this trend: mono bouquets can be dried, or we take a fresh approach and place a colourful plant bouquet in a vase. 
Harvesting Elements outdoors
In the garden this trend translates in the same way as in the interior, but can be implemented even more clearly. The garden is tidied up, has a clear efficient layout, and materials are reused where possible. The visual contrast is reflected in - amongst other things - the use of natural elements, such as concrete combined with recycled shells from the food industry as a by-product.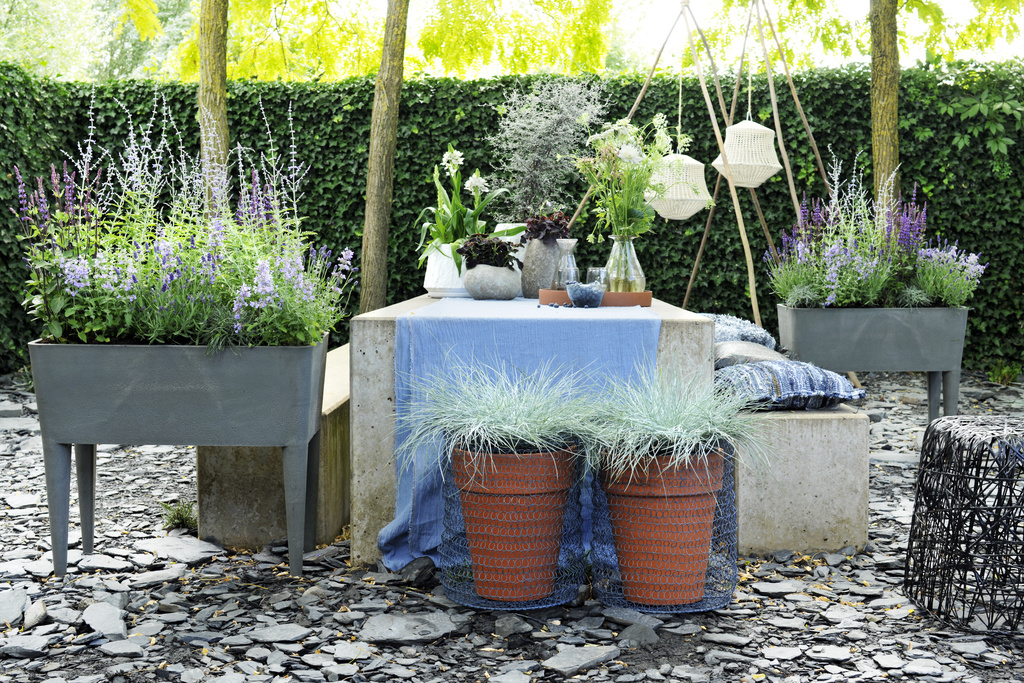 Shapes
The shapes are simple and without fuss. You also encounter many natural, irregular organic shapes. 
Colours

Shades of white and grey together with black predominate, followed by shades of blue accompanied by natural tones of green, blue and brown. 
Materials
The materials used are varied and are often created by bringing together multiple materials. These recycled materials are often uneven and coarse.  
Patterns
Patterns that appear natural or patterns without frills are favourite in this trend. Marble-look and spot patterns, but equally a simple check or stripe for fabrics.