2021 Communication Calendar
We like to think ahead about future high-profile campaigns, surprising content and successful shopper activations. During these difficult times, this is more of a challenge for us because of the pandemic and the associated uncertainty about budgets, and the unclear prospects over the longer term of several years. We have now pencilled in the timetable for 2021 in our communication calendar for the coming year.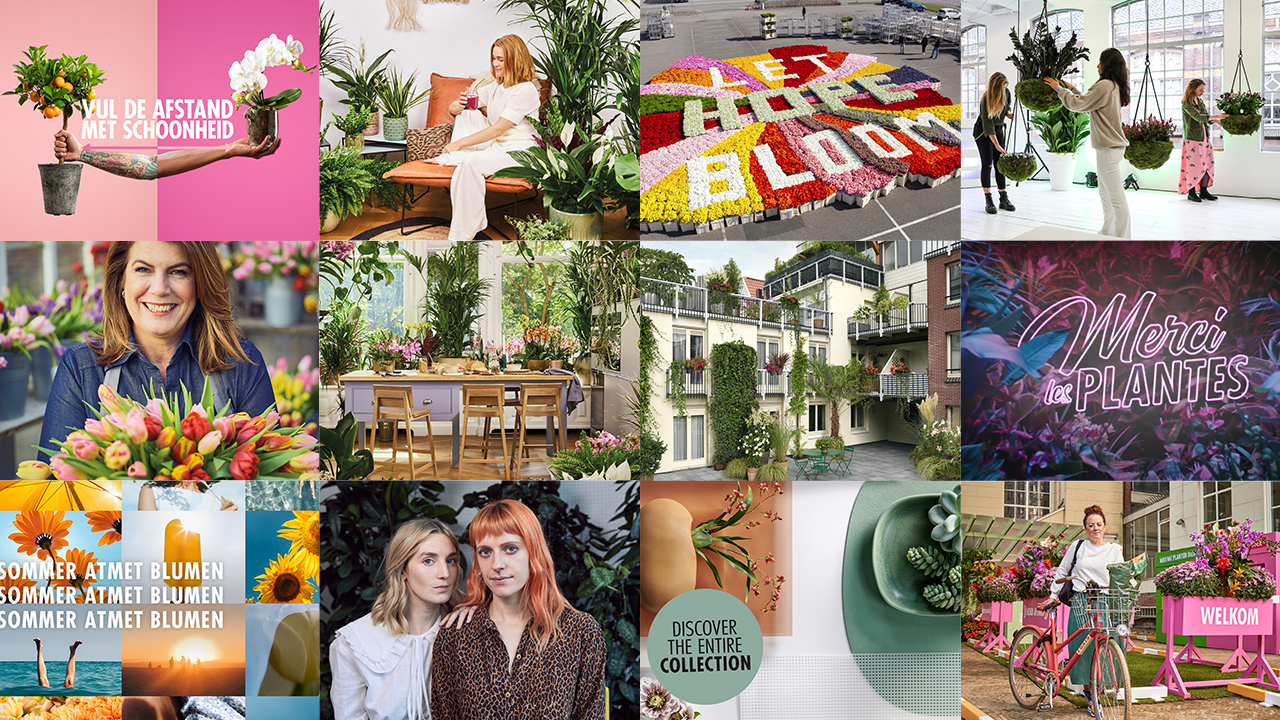 Campaigns in 2021
In 2021 you can expect a mixture of new campaigns and campaigns that follow up on familiar past successes. In April we will be launching the new From Grey to Green garden plant campaign in the Netherlands and Germany. This campaign picks up on an urban trend within Europe: town centres making way for plants. In the spring we will also continue with the The Trend Collection, in which we present flowers, houseplants and garden plants in an eye-catching way in the context of current trends in interiors, lifestyle and fashion. The high-profile We Need More Flowers and Thanks Plants campaigns will also be returning in 2021.

Shopper activations and content
We would like to invite you to click on the video below and spend just over 15 minutes to get an update. Alongside these campaigns, there is also scope for seasonal and content campaigns like Celebrate the Seasons and Plant Design. In the latter, professionals provide online masterclasses in which they teach curious consumers all about plants and interiors. Wherever possible, the Flower Council's campaigns are supported by innovative shopper activations in which we also reap the fruits of our campaign messages on the shop floor. A constant stream of stimulating content also guarantees engagement online with our consumer websites, social media channels, and newsletters.

Take a look at the 2021 Communication Calendar
The 2021 Communication Calendar outlines the most important communication points in 2021. We have thereby differentiated between the flower campaigns on the one hand, and the plant campaigns on the other. The carousel below contains the three parts of the 2021 Communication Calendar. You can also download the calendar as a PDF file using this link:ns Calendar using this link:
We try to plan our campaigns, content and shopper activation activities as far in advance as possible so that we can involve you at an early stage. Unfortunately there is currently some uncertainty about our long-term budget. We are hoping to be able to inform you about our plans for 2022 and the first half-year of 2023 in the first half of 2021.  

Here too it's the case that we do it together
Communicating is not something we do on our own. We work with traders and growers, relevant brands, media players and influencers to share our activities and messages. That's how we achieve a collective result, including opportunities for 2021.
Want to find out more?
If you would like to find out more about the new communication calendar please contact C.de.kock@flowercouncil.co.uk.