The Spring/Summer 2022 Trend Collection

Connection and joy through flowers and plants 
In March 2022 Funnyhowflowersdothat.co.uk and Thejoyofplants.co.uk will launch The Trend Collection Spring/Summer 2022. This collection is centred on the Bright and Breezy style trend. A collection of flowers, houseplants and garden plants that complement each other due to their colours, shapes and textures. They are a perfect fit for current trends in interiors, lifestyle and fashion. This is the fourth edition of The Trend Collection since the launch in 2020.
Goodbye stress, hello carefree enjoyment 
After a stressful period filled with social distancing, the time will arrive to be joyful, connected and carefree, both indoors and outdoors. The name Bright and Breezy says it all: expect colourful flowers and plants with a fresh, celebratory aesthetic. This collection is also characterised by cheerful shapes, powerful pastels, optimistic patterns and practical materials with a friendly look.
Seventeen flowers and plants  
The Spring/Summer collection features the following flowers and plants: 
Flowers: Milkweed, Oxeye daisy, Alstroemeria, Allium, Freesia and Yarrow.
Houseplants: Broom, Caladium, Campanula, Bougainvillea, Scindapsus and Oxalis.
Garden plants: Sage, Garden Ferns, Cosmea, Hosta and Columbine.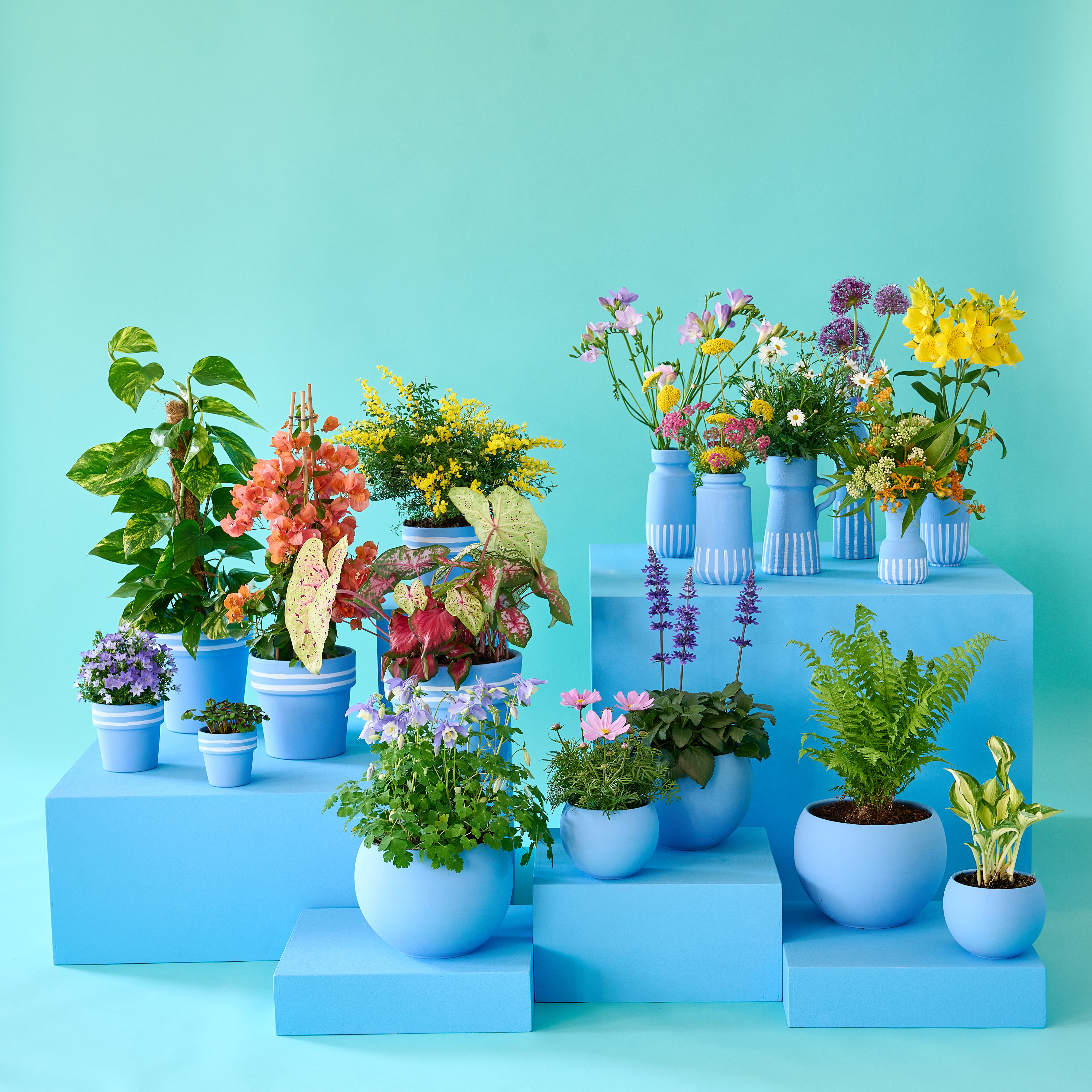 How we'll promote the campaign
The Trend Collection will be rolled out in our four core countries from 1 March to 20 September 2022. The plants and flowers in the collection will therefore enjoy extra attention in those countries. Every collection is supported with an online Lookbook filled with inspirational images that reflect the mood of the collection. This is also supported by PR, media promotions, collaboration with influencers, and point of sale material for use in stores. Additional inspirational and informative content and images  will be available on Funnyhowflowersdothat.co.uk, Thejoyofplants.co.uk and their associated social media channels.
Download the images and posters
You can find downloadable materials and key visuals of The Spring/Summer 2022 Trend Collection in various formats from the links below via each dedicated page for cut flowers, indoor plants and garden plants.
You can use the materials free of charge to promote the collection to your customers, online and in-store. Please credit: #thetrendcollection, #funnyhowflowersdothat, #thejoyofplants.*
High resolution images can be downloaded from our image bank.
Materials in ten languages on the Marketing Portal
If you have a Marketing Portal account, you can download the posters and banners for The Trend Collection in ten different languages. The Marketing Portal can be accessed by our stakeholders on request. You can register via the login page for this portal.

Background of The Trend Collection 
The Flower Council of Holland develops two Trend Collections every year to match consumers' changing needs. Every year there is one collection for Spring/Summer, and one for Autumn/Winter. With these collections we ensure that flowers and plants are top-of-mind with consumers and media throughout the year. Alongside a selection from a carefully compiled top 20 of flowers and plants, we also include products in the campaign that are not highlighted so often. This means that The Trend Collection is always surprising.
Want to find out more?
For more about The Trend Collection please contact Campaign Manager Isabel Groot at  igroot@bloemenbureauholland.nl.
*The hashtags for this campaign in all four countries are: #trendcollectie, #trendkollektion, #thetrendcollection, #lacollectiontendance​ 
                           
November 2021