The flowers in The Spring/Summer 2022 Trend Collection
The expected, joyful and worry-free times to come is reflected by the six flowers selected for this collection: Milkweed, Oxeye daisy, Alstroemeria, Allium, Freesia, and Yarrow.
Joyful, connected and carefree
The Spring/Summer 2022 Trend Collection is based on the Bright and Breezy style trend. The six selected flowers fit perfectly within the current interiors, lifestyle and fashion trends. The look can be completed with houseplants and garden plants that complement each other.
How we'll be promoting the campaign 
From 1 March until the end of September 2022 our consumer websites Funnyhowflowersdothat.co.uk and Thejoyofplants.co.uk the Spring/Summer 2022 Trend Collection will be highly visible: an inspirational online Lookbook and supporting content will be promoted through media, PR and POS material. 
Read more about the promotion in The Trend Collection overview. You can participate by downloading marketing materials and images free of charge for cut flowers from the links below. 
The six Bright and Breezy flowers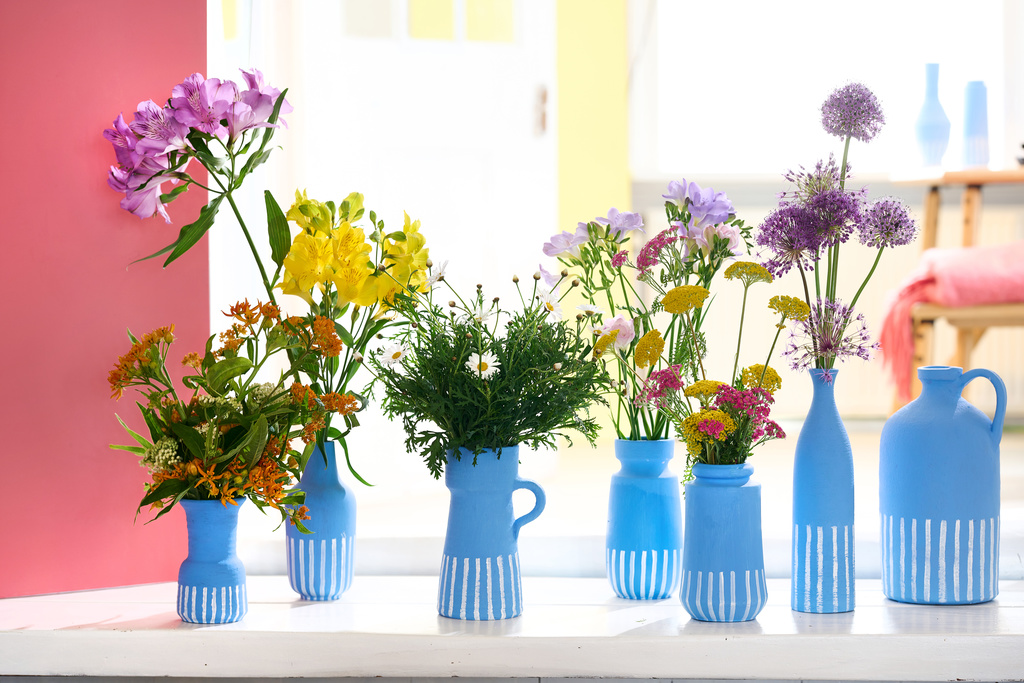 Meet the flowers in this Trend Collection: :
Milkweed - If there is one colour that embodies happiness, it's orange. Milkweed in this colour therefore offers an essential element in The Trend Collection.
Oxeye daisy - The Oxeye daisy (Leucanthemum) is very much a 'what you see is what you get' flower: pure and simple joy. This yellow and white flower is what every Bright and Breezy bouquet needs.
Alstroemeria - Alstroemeria symbolises friendship obviously belongs to a trend that is all about connection. With all its colours and intriguing design of the heart, the alstroemeria embodies the fresh, celebratory aesthetic of this collection.
Allium - There is something pleasantly cheeky about the Allium adding a playful touch to any Bright & Breezy arrangement. Little plus: it dries beautifully.
Freesia - Freesias smell delicious and lends a soft curve to a bouquet. The flowers come in shades that work well in this trend: from powdery whites and yellow, to deep purple.
Yarrow - Yarrow, also known as Achillea, has an umbel that has a lovely scent.  Available in fresh white, but also in attractive shades of yellow and pink, they add that springtime feeling to  a Bright and Breezy bouquet. 
Display tip​s 
You can draw extra attention to the flowers from the collection on the shop floor through display by using ceramic, plastic or glass vases in appealing colours. The shapes can be playful, and soft pastel colours can be offset with some lively accents such as bright red coral. 

Materials to download
You can download the images, posters and banners from The Trend Collection Spring/Summer 2022 below free of charge to use for your own promotions relating to the collection. If you use the images on your social media, please include the credits #thetrendcollection, #funnyhowflowersdothat @howflowersdothat.
These images and many other, all in  high resolution, can be downloaded from our image bank. 
Materials on the Marketing Portal
On the Marketing Portal you can download the posters and banners for The Trend Collection in ten different languages. 
More on the Marketing portal.
Want to find out more? 
For more information about The Trend Collection please contact Campaign Manager Isabel Groot at igroot@bloemenbureauholland.nl.
                     
November 2021