The garden plants from The Spring/Summer 2022 Trend Collection
As we submerge from a stressful period, we have a need to relax, be carefree and re-connect. The garden or balcony is the perfect place for this. We are creating a cheerful setting to enjoy and relax amidst flowers and greenery. The five garden plants from The Spring/Summer 2022 Trend Collection provide that ultimate carefree and joyful holiday feeling: Sage, Garden Ferns, Cosmea, Hosta and Columbine.
Holiday feeling through plants
This latest Trend Collection is based on the Bright and Breezy style trend. The five garden plants that make up a beautiful coherent collection in The Spring/Summer 2022 Trends Collection fit with the trends of interiors, lifestyle and fashion. And they make you feel like being on holiday in your own garden. We have also developed trends for the indoors showcasing houseplants and flowers in this collection.

Promotion of the collection
Our consumer websites Thejoyofplants.co.uk and Funnyhowflowersdothat.co.uk will launch this fourth Trend Collection on 1 March 2022. The collection is supplemented with a digital Lookbook and will be promoted through media, PR, and inspirational content. Read more about the promotional plans in The Trend Collection article. To participate in this campaign, you can find the free downloadable assets on outdoor plant images and materials below. 
The five garden plants in the collection: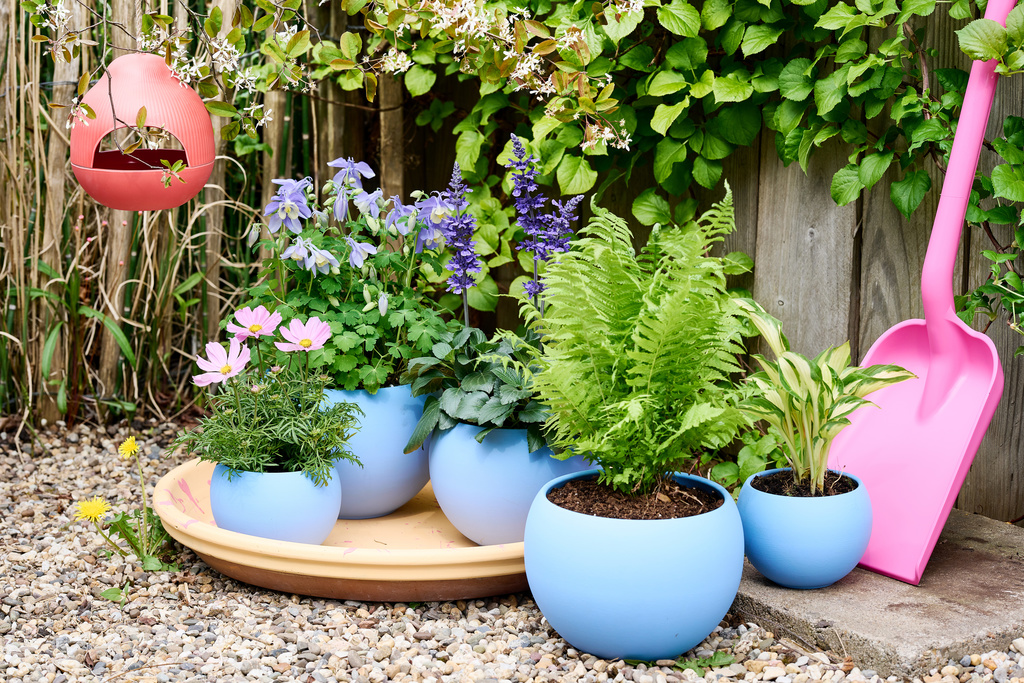 Sage - Sage gives great colour and life to the garden and is therefore a Bright and Breezy essential. With its indigo or violet flowers, the plant is a feast both for the eye, as for pollinating bees and butterflies. Place Sage in a border or in a pot.
Garden Ferns - Garden Ferns have greatly shaped exotic leaves that slowly unfurl and come in many shades of green. They do particularly well in the shade, making them ideal plants for a north-facing garden.
Cosmea - With its colourful pallet Cosmea simply brings the Bright and Breezy trend to life. From All summer long, the flowers will brighten patios, balconies and gardens. They can also be cut for a joyful bouquet.
Hosta - With sizeable rosettes of leaves from which purple or lilac flowers emerge, Hosta brings joy down to the ground. Many Hosta varieties have leaves with attractive markings in faded colours. It is an easy plant and thrives in sun or shade, as long as the soil is kept moist.
​Columbine - The flowers of Columbine, also known as Aquilegia, are like colourful fireworks. The flowers are also bursting with nectar, which means that bees and butterflies adore them. Fun fact: this Spring/Summer bloom is related to the Anemone, Clematis and Helleborus.
Display tips
The garden plants can attract extra attention on the shop floor through an unmissable display. Arrange them together playfully and place them in cheerful pots and coloured tubs made of materials like ceramics, glass, raffia and plastic. Mix shades of pastels with a few brighter colour accents like coral red. 

Downloads
You can download the posters and banners for The Spring/Summer 2022 Trend Collection free of charge to help with your own promotions.
Images for social media can be found below in the carousel. These and much more images can be downloaded in high resolution from our image bank.
If you use the images on your social media, please credit: #thetrendcollection, #thejoyofplants @thejoyofplants. 
Materials on the Marketing Portal
On the Marketing Portal you can download the posters and banners for The Trend Collection in ten different languages.
More on the Marketing portal.
Want to find out more?
If you want more information about The Trend Collection, please contact Campaign Manager Isabel Groot at igroot@bloemenbureauholland.nl.

                     
November 2021