Evaluation of The Autumn/Winter 2021 Trend Collection
10 December 2021
Positive rating for campaign in four countries
Funnyhowflowersdothat.co.uk, Thejoyofplants.co.uk, and their international sister sites launched The Trend Collection Autumn/Winter 2021 in September 2021. This is a carefully curated collection of flowers, houseplants and garden plants: The associated international media campaign has now been evaluated with great results.
Afbeelding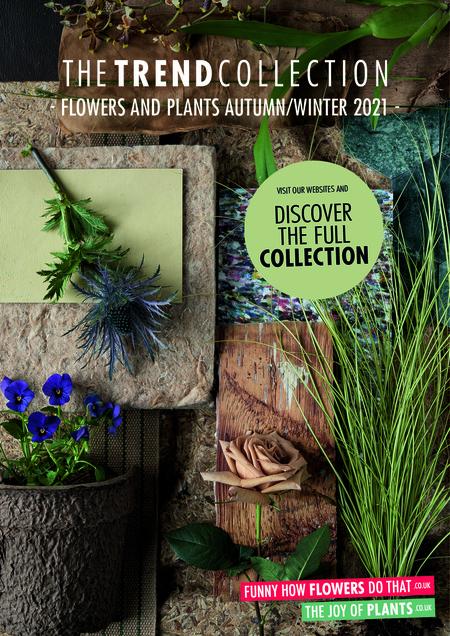 Sixteen flowers and plants
The third Trend Collection is a selection of sixteen flowers, houseplants and garden plants compiled, is based on the Balanced Biotope style trend. With its raw looks, rugged shapes and earthy colours, the collection fitted perfectly with interiors, lifestyle and fashion trends for this season. The campaign around this collection started in the Netherlands, Germany, France and the United Kingdom on 1 September 2021.
Rating
Research agency Motivaction examined the effectiveness of the campaign, particularly focusing on the Aesthetic Explorer target group. The average rating for the campaign is 7.9. This is the same as the ratings received for the previous collection, with Dutch and French women in particular giving it a high score.
Intent to buy
The campaign had the highest impact in the United Kingdom and France in terms of interest and intent to buy.
Averaged across the four countries, the intent to buy is: 
58% for flowers (this is less than the previous campaign: 65%)
74% for houseplants (this is more than the previous campaign: 71%)
63% for garden plants (this is less than the previous campaign: 68%).
Appreciation
The majority of the respondents felt the campaign was good, inspiring and very beautiful.
81% of respondents thought the campaign was fun, and 86% said that they could easily understand the campaign.
83% of the target group rated the media campaign as credible, and 70% as personally relevant.
Quotes from the target group: "I think it's cool because it's unique and it does its own thing." (German respondent), "This campaign is very nicely structured and can be used very well for inspiration." (German respondent), "Its inspiring and interesting." (British respondent)
The campaign continues
Although we have the initial evaluation insights for the campaign, it is still ongoing until February 2022 as some great collaborations with influencers are still in the pipeline. Content can also be continually found on the consumer websites. The Trend Collection will also be visible on Pinterest from the end of November until February 2022. Therefore parties can continue to use the material and product information from The Trend Collection Autumn/Winter 2021 to inspire customers. The overall campaign evaluation will follow after the summer.
Any questions?
Please contact Campaign Manager Isabel Groot at igroot@bloemenbureauholland.nl.
                  
December 2021