Crazy Illusions style trend
Pleasure, freedom and space are the core values of the 'Crazy Illusions' style trend. When tradition gives way to new technological possibilities like a multi-layered society, this gives us a fresh perspective on reality. All that innovation means that demanding consumers soon tire of traditional products and brands. As a result, people - and young people in particular - go looking for hyper-personal alternatives that must be available immediately.
Crazy Illusions in the interior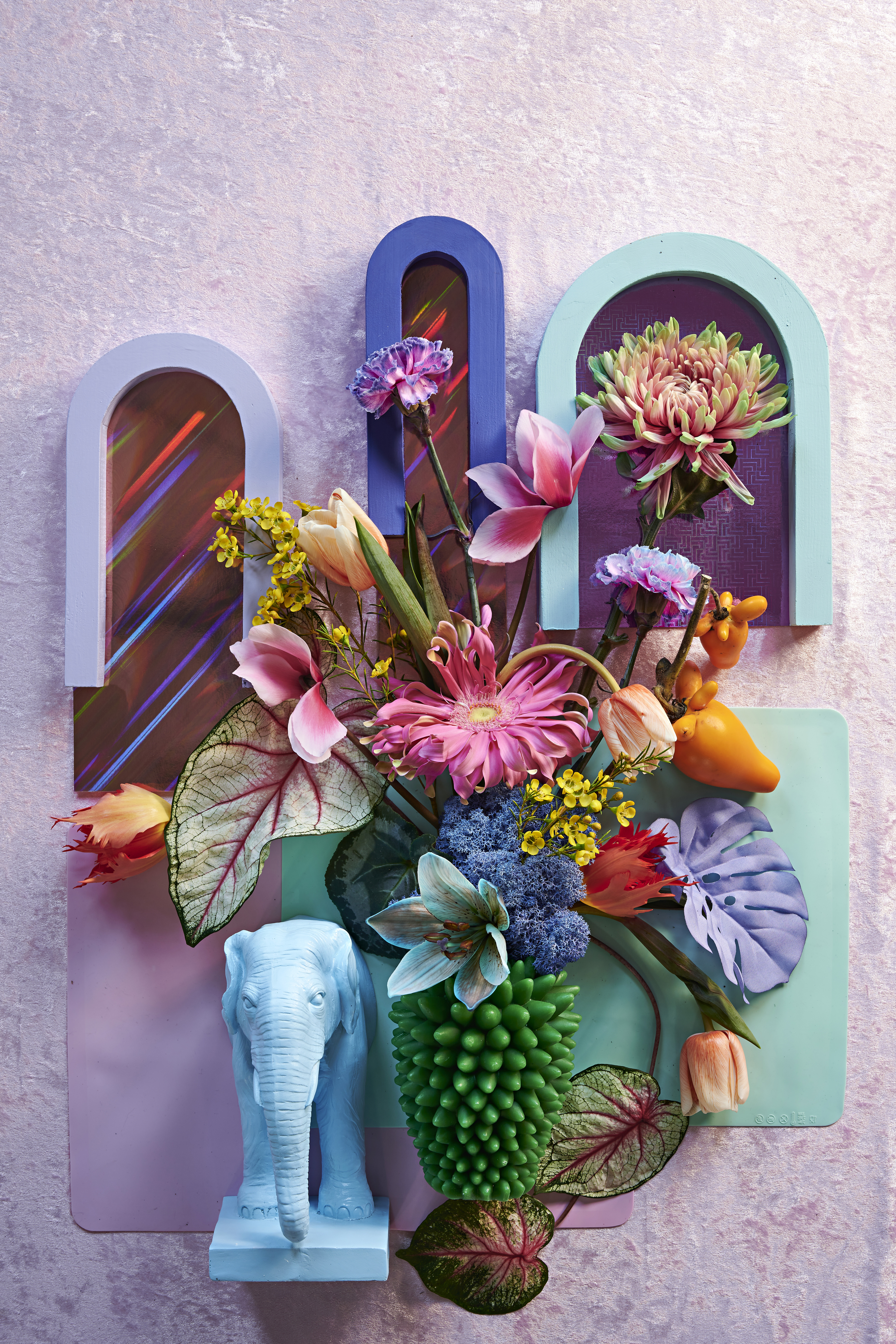 In interiors the trend translates into vivid colours and metallics, from mint to navy blue, but also bright green. Circles and curves are recurring items, as are objects with a twist. Figurative faces lend a discombobulating feel to products. The playfulness and the combination of extremes rapidly result in an extravagant and festive look. Dyed flowers are combined with coloured pampas grass, artificial flowers, fresh and dried flora. Plants like Ananas and bromeliads lend a tropical feel. In other words, everything can be super-creative and totally different from what we're used to. There no longer seems to be any division between good and bad taste.
Crazy Illusions outdoors
In the Crazy Illusions outdoor space you also feel like you are Alice in Wonderland. Spectacular plants with striking flower shapes combined with coloured pampas grass to create a fairytale setting. Garden furniture items are individual - there are no matching elements. This lack of rules create an extra-relaxed feel in gardens and on patios, further reinforced by stripes, mirror effects and playful patterns. It's as if you're strolling through a colourful fantasy.
Crazy Illusions product ingredients
Abstract extreme shapes embody this trend. Design with humour and playfulness is essential, especially if products are made of reflecting materials. Distinctive elements dominate. Add psychedelic patterns in a cheerful colour palette of pastels and more vivid contrasting colours to complete the illusion.

Colours: 


Want to find out more?
Read more about the other three 2021 Horticulture Sector Trends: Human Touch, Balanced Biotope and Recentered Stage.