Recentered Stage style trend
In a rapidly changing world we want to be seen and heard. There is a need to acknowledge colour and project what we stand for. Contrasts are becoming stronger. Everyone has their own idealism. We also expect brands and products to take a stand. The story behind the product is becoming more important, including in the horticulture sector. This is at the heart of the Recentered Stage style trend.
Recentered Stage in the interior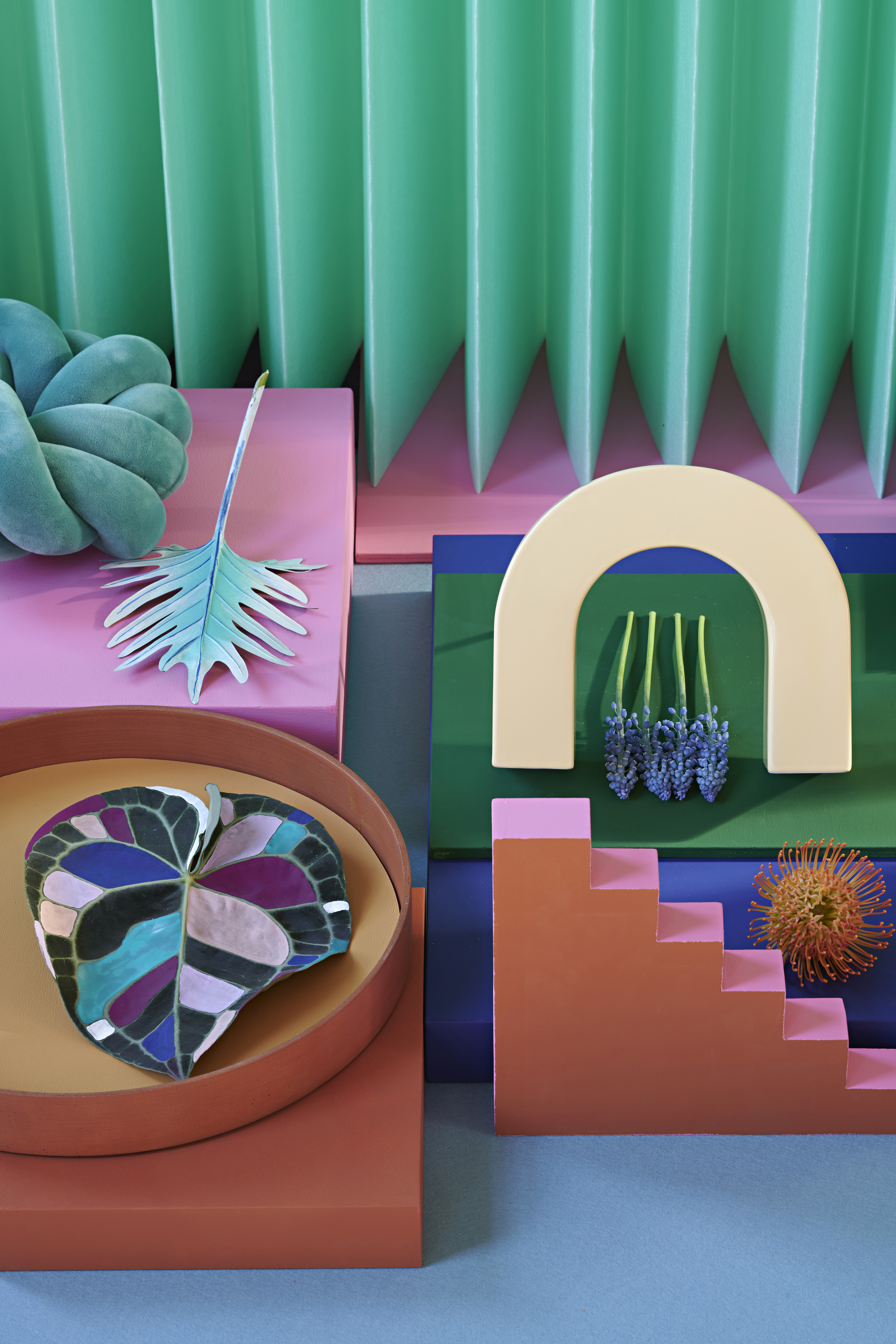 Arches, steps, geometrical shapes: it's as if someone has got to work with a set of building blocks. Within Recentered Stage everything is about the playful but powerful design of products that symbolise consumers' strong views. It's like everything is on a stage. The colours are also far from modest: soft pastel shades combined with strong bold colours like yellow, terracotta, blue and purple. For flowers, the vase appears to determine the shape of a bouquet. This creates surprising new shapes. Plants in this trend often have playful leaf markings packed with contrasting colours. 
Recentered Stage in the garden or on the patio
Colour blocking, geometric shapes and clear lines: the Recentered Stage trend makes an impact outdoors too. Add height differences and the garden is transformed into an exciting environment in which you can constantly enjoy fresh perspectives. Create blocks of solid colour by planting yellow tulips, blue grape hyacinths and pink dahlias. Those blocks fit beautifully with modular garden furniture, once again creating the 'building blocks' effect. Geometric containers, pots and partitions also help achieve the look.

Recentered Stage product ingredients
What you particularly notice with Recentered Stage are the geometric, cheerful shapes. Arches, steps and height differences are widely used. Graphic prints ensure depth in patterns, and there are many vivid blocks of colour. The materials used in this trend are subordinate to the shapes and colours: the motto is 'anything goes'.
Colours:
The colour palette is also playful and powerful. Soft pastels are flanked by contrasting bright green, orange, purple and terracotta.


Want to find out more?
Read more about the other three 2021 Horticulture Sector Trends: Human Touch, Balanced Biotope and Crazy Illusions.