How we persuaded consumers in 2020
Review of last year's shopper activations  
When describing our shopper activations in 2020, we cannot ignore the fact that coronavirus meant that we had to put various planned shopper activations on hold. We nonetheless carried out eleven activations in various countries. These in-store promotions with added value or an experience enabled us to tempt consumers to buy (more) flowers and plants.  
Here is a review of some of the highlights and insights of our underlying consumer research.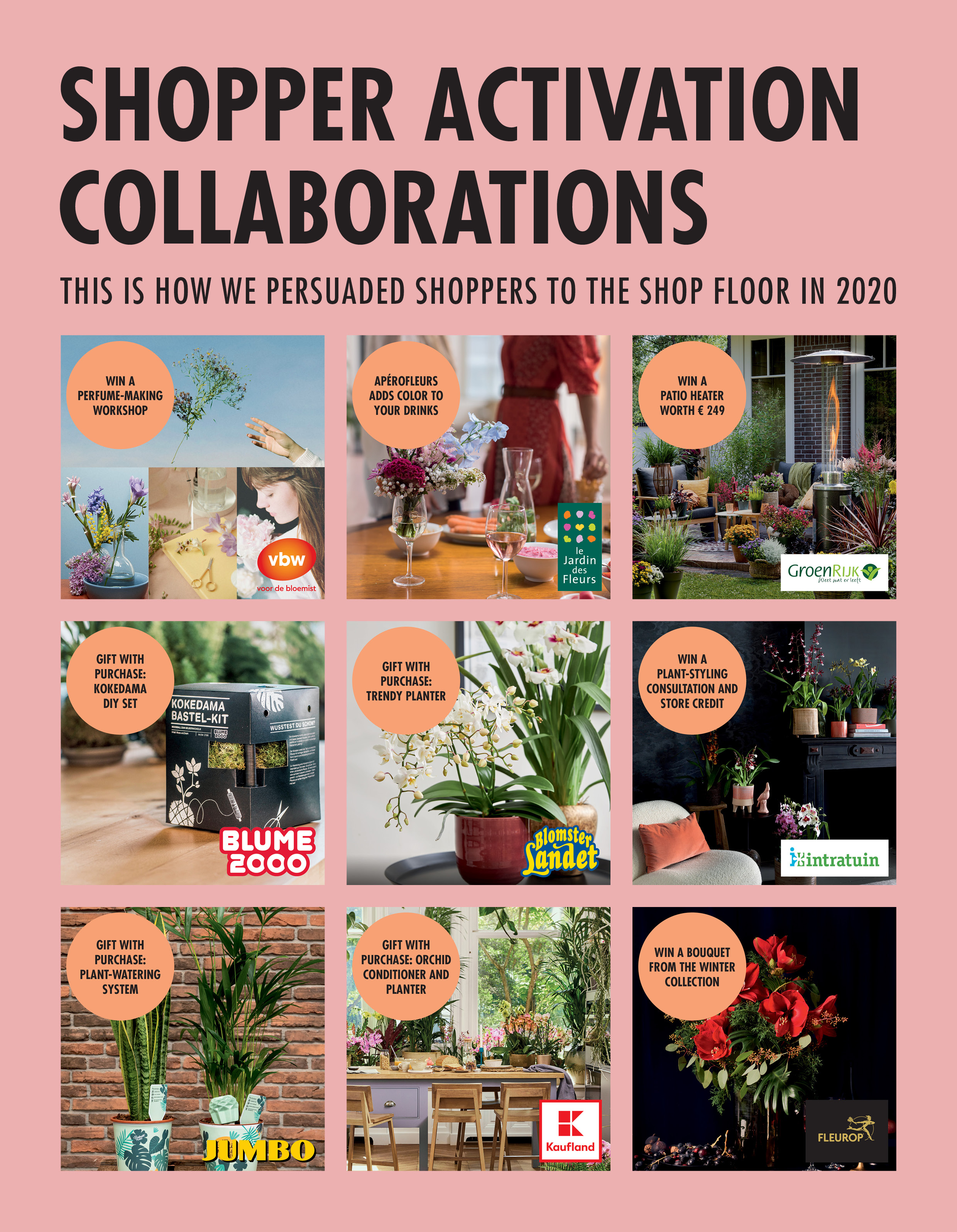 Busy third and fourth quarter in 2020   
Starting in June 2020 we launched various shopper activations in Germany, France, the Netherlands and even in Sweden. We did not do that alone, but in collaboration with florist chains, supermarkets, and garden centres. Activations such as 'Win a perfume-making workshop' at Dutch florists, 'Win a patio heater' at GroenRijk or 'Win plant styling advice and vouchers to spend in-store' at Intratuin. At supermarket chains Jumbo the offer was a free watering system when customers bought an indoor plant. At the German supermarket chain Blume 2000 the promotion involved a very special Kokedama DIY gift set when buying orchids, whilst customers at the French supermarkets of E. Leclerc received an orchid conditioner as a gift with purchase. At the German chain Kaufland the conditioner was supplemented with a planter. The Swedish company Blomsterlandet presented customers with a trendy plant pot when buying orchids, and in France we highlighted ApéroFleurs at florists. In the Netherlands and Germany customers were encouraged to buy an amaryllis bouquet at Fleurop. With this they have the chance of winning a Fleurop flower voucher or a bouquet from the winter collection.
Quality rather than quantity  
Of course, eleven shopper activations in such a challenging year is a decent achievement, but it is particularly about the quality, which also scored highly. Virtually all promotions managed to sell more flowers and plants as consumers bought 20% more houseplants at Jumbo during the Urban Jungle plant market than in the same period in 2019. And together with Blume 2000 we achieved a 40 to 45% increase in sales of orchids. Those are great results!  
Read more about the results of 2020's three best shop activations. 
We did not do it on our own 
If you are interested in collaborating on a shopper activation, have a good idea for promotion, or interested in the findings of the research, please contact Ivo van Orden, manager team activation, at i.van.orden@bloemenbureauholland.nl.